Ever wondered how to get a visa to Canada, either to visit, or as a permanent resident? This post should tell you everything you need to know if you want to apply for Canada Visa as a Nigerian.
Types of Canada Visa
First, you need to know what kind of visa you're applying for, because all Nigerians need a visa to visit Canada. See here for countries Nigerians don't need a visa to visit. There are two categories of Canadian visas – Temporary & Permanent Visas – and each category has their own specific visas which people can get depending on whether they meet the eligibility criteria.
— Click this link to know the exact Canada visa you need before you proceed.
**TEMPORARY VISAS
If you plan to stay longer than 6 months or plan to work in Canada, you may be considered a temporary worker and have to apply for a work permit. To apply for a temporary work permit, you must have an offer of employment from a Canadian employer, and the employer must have received approval to recruit a foreign worker.
Temporary visas allow the holder to stay in Canada for a limited amount of time for purposes of tourism, visit to family, studying, or working. Permanent visas allow the holder to move to Canada permanently to work and be on a path to a Canadian citizenship.
Temporary visas have the following sub categories:
Tourist Visa
Super Visa
Diplomatic & Official Visa
Courtesy Visa
Facilitation Visa
Business Visa
Visa for the purpose of giving birth. (This is a first, lol!)
Intending organ donor visa
Student Visa
Temporary Foreign Worker Visa
Temporary Resident Permit
Holiday Visa
**PERMANENT WORKER CLASSIFICATION PROGRAMS
On January 1, 2015, the Canadian government launched its "Express Entry" system for skilled foreign workers who are applying for a Permanent Resident (PR) Visa to Canada through the Federal Skilled Workers Program (FSWP), Federal Skilled Trades Program (FSTP), and Canadian Experience Class (CEC) Program. The Provincial Nominees Program (PNP) will also be affected by the "Express Entry" system.
A key goal of this "Express Entry" program is to speed up the process of approving qualified skilled foreign workers for a PR Visa to Canada so they can help meet the needs of Canadian businesses.
Federal Skilled Trades Program (FSTP): Permanent Resident Visa to Canada for qualified tradespeople in occupations like ironworkers, machinists, plumbers, welders and other skilled trades.
Federal Skilled Worker Program (FSWP): Applicants are evaluated based on their education (which, for many eligible occupations, includes a university degree), work experience, knowledge of French and/or English and age. Your profession must also be well sought after.
Provincial Nomination Programs (PNP): Each province and the two territories have an agreement with the Government of Canada that allows them to nominate immigrants who wish to settle in that province.If you choose to immigration to Canada under the Provincial Nominee Program, you must first apply to the province where you wish to settle and obtain a Nomination Certificate from the province or territory. The Provincial visas are aimed at semi or low skilled professionals.
Quebec-Selected Skilled Worker Program (QSWP): ** Québec has its own immigration program **
Family-Sponsorship Program: Once you have become a Canadian Citizen or a permanent resident, you CAN sponsor your dependents  and give them the chance to become permanent residents.
Live-in Caregiver Program (LCP): This is a special visa for live-in caregivers who have qualified to provide care for children, elderly or the disabled in private homes without supervision. The visa requires work experience, a high school diploma and a good English or French level.
For Family sponsored visas, proof of funds is essential.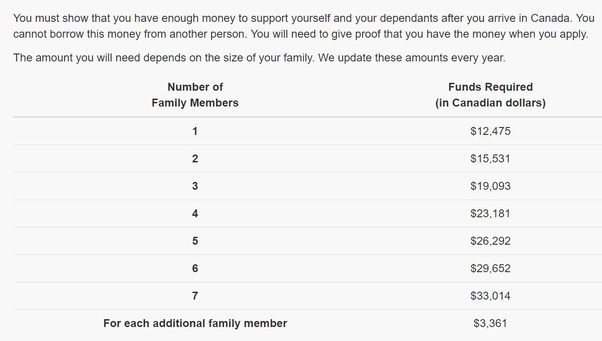 How to Apply
You can apply for the Canada visa online through the IRCC online application system or through a VFS Global Visa Application Center. The visa process can take some time, so using a visa application center is recommended if you have the option. Follow these steps:
Download the Document Checklist and fill the Visitor Visa (IMM 5257), and Family Information (IMM 5645) forms.
If applicable, complete the VFS consent form. When using a third-party provider such as VFS Global you will need to submit a consent form along with your application or your application will be returned to you.
Pay the visa fees.
Submit your application to your local Visa Application Center.
Pay the service charge and obtain a receipt with a unique tracking number which you can use to track the progress of your application online.
Note: If you cannot provide all the supporting documents, complete a waiver form and attach it to your application, or you risk being denied your visa.
Required Documents
The following documents are required:
a letter of invitation from your potential business partner in Canada
24-hour contact details for that person
You may also need identification cards or proof that you have a job. As a business visitor, you must show that:
you plan to stay for less than 6 months
you don't plan to enter the Canadian labour market
your main place of business, and source of income and profits, is outside Canada
you have documents that support your application
See VFS Global specifications here.
Canadian Visa Fees
The visa fees for a Visitor Visa may vary depending on if you pay online or in person at a visa application center. There is an application processing fee and a biometric fee.
Estimated fees when paying online and applying in person:
Processing fee – about $77
Biometrics – $66
Estimated fees when applying through the VFS Global Visa Application Centre:
Processing fee – $77
Biometrics  –  $66
Service charge – $47
Canada Visa Application Office Addresses
Manor Hall, Plot 110, Admiral Ayinla Way, Opposite Treasure Garden Estate, Third Roundabout, Lekki Phase I, Lagos.
Silverbird Entertainment Centre. Plot 1161, Memorial Drive,2nd Floor, Central Business District, Abuja.
Good luck! Hope we told you Everything you should know about Canada Visa applications. More questions? Leave a comment below.
Read: