9 Extremely Beautiful Destinations You Need to See. It will definitely blow your mind, like it did mine.
Extremely Beautiful Destinations
1. Montreal Botanical Garden, Canada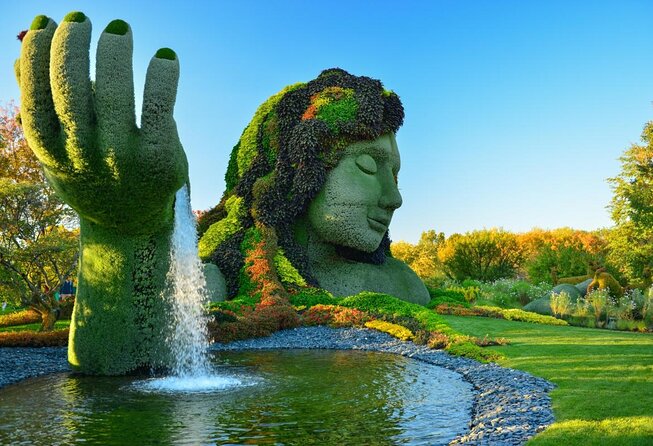 The Montreal Botanical Garden, one of the city's jewels, is recognized as one of the world's greatest botanical gardens.
It offers a colourful program of events, exhibitions and activities all year long.With its collection of 22,000 plant species and cultivars, 10 exhibition greenhouses, Frederic Back Tree House, and more than 20 thematic gardens spread out over 75 hectares, it's also a perfect place to enjoy fresh air and natural beauty. Located just minutes from downtown Montreal, right near the Biodome and Olympic Park, the Montreal Botanical Garden is a living museum of plants from all over the world. You can also enjoy the Insectarium which is on the Garden's site.
The Montreal Botanical Garden is definitely one of the Extremely Beautiful Destinations in my book, and is situated on the same site as the Montreal Insectarium, a family-friendly bug-themed attraction. A single ticket provides access to both. Visitors can also book package tickets, which grant entry to the botanical garden and the Space for Life museum (either the Biodome or the Rio Tinto Alcan Planetarium)
2. LAKE NATRON, TANZANIA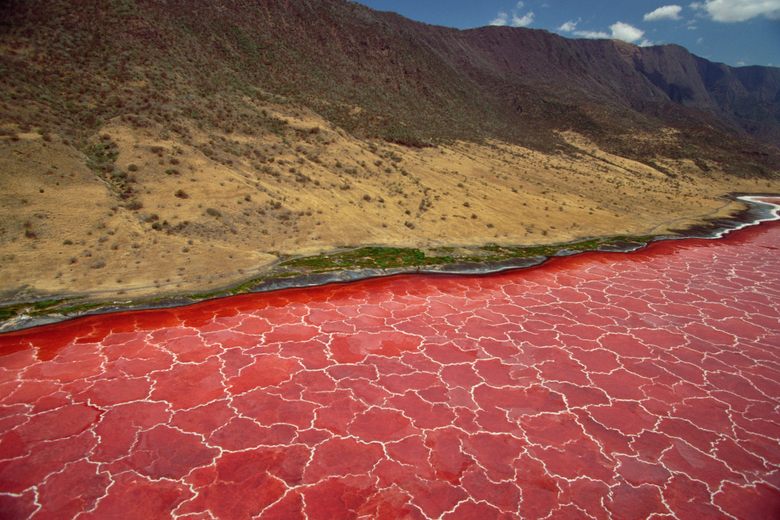 The lake that turns animals to stone
This one definitely falls under the Extremely Beautiful Destinations that will scare the shit out of you.
The most mysterious part of Lake Natron is its eerie ability to turn animals corpses to stone. The extreme sodium bicarbonate content preserves animals perfectly through calcification, leaving behind statue like figures that wash up on the shore.
Lake Natron is in northern Tanzania on the border with Kenya, lying in the East African Rift System, 70 miles (113 km) northwest of Arusha. The lake is 35 miles (56 km) long and 15 miles (24 km) wide and contains salt, soda, and magnesite deposits.
3. Shi Cheng City, China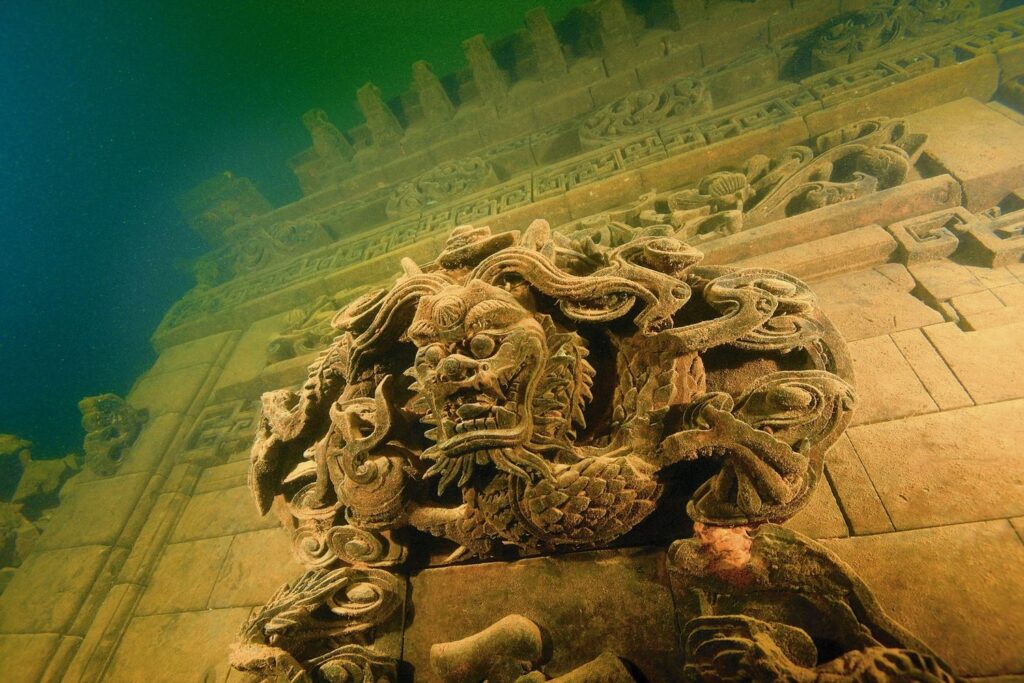 Shī Chéng (Chinese: 狮城, literally 'Lion City') is an ancient underwater city situated under Qiandao Lake in the Zhejiang Province of China. The city was flooded for the purpose of Industrialization by the Chinese Government in the year 1959 after a hydroelectric dam was required for the province of Zhejiang. According to the evidence found, the lost city was inhabited for centuries, but is now primarily used as an underwater tourist attraction by tourists and diving experts. – Wikipedia
The strange thing about the famed Lion City is that it was flooded intentionally. As opposed to other cities that were victims of natural disasters or man-made catastrophes, Shī chéng, as it's known in China, was intentionally flooded for a particular reason. In order to design and build a hydroelectric station and dam — which would later be known as the Xin'an Dam –, the city was flooded to make way for a man-made lake. This lake would later be known as the Qiandao Lake.
4. Salar De Uyuimi, Bolivia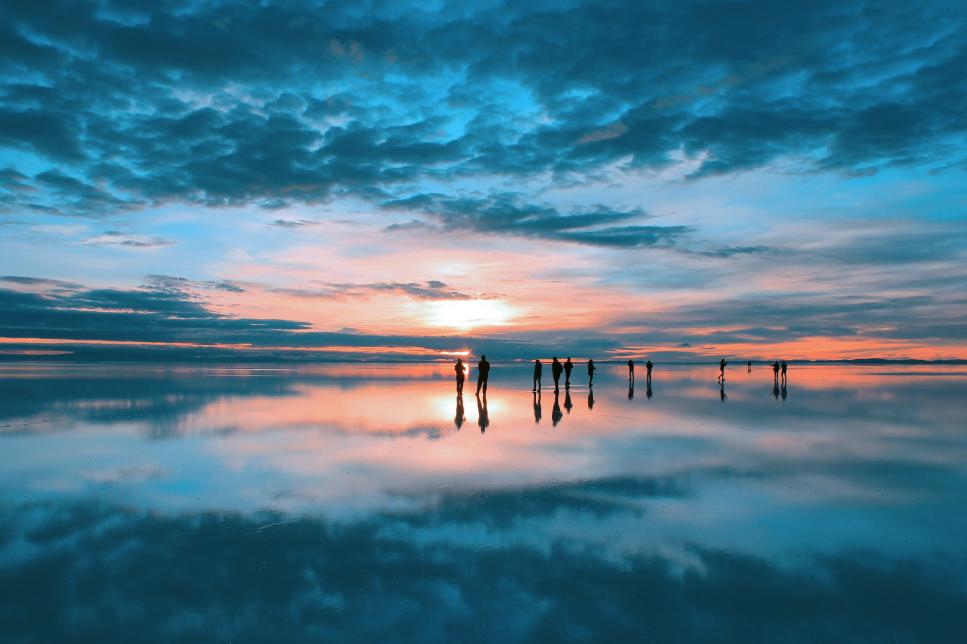 Salar de Uyuni, amid the Andes in southwest Bolivia, is the world's largest salt flat. It's the legacy of a prehistoric lake that went dry, leaving behind a desertlike, nearly 11,000-sq.-km. landscape of bright-white salt, rock formations and cacti-studded islands.
Salar de Uyuni is considered one of the most extreme and remarkable vistas in all of South America, if not Earth.
Located at the crux of Bolivia, Chile, and Argentina, the logistics and length of your trip to Salar de Uyuni will depend where you're coming from. See Nat Geo for how to get there.
Salar de Uyuni is not only one of the most Extremely Beautiful Destinations in this post, it is THE ONE. I'd probably never go, (I'd be scared silly), but I can admire in awe from afar. Lol
5. Lake Retba, Senegal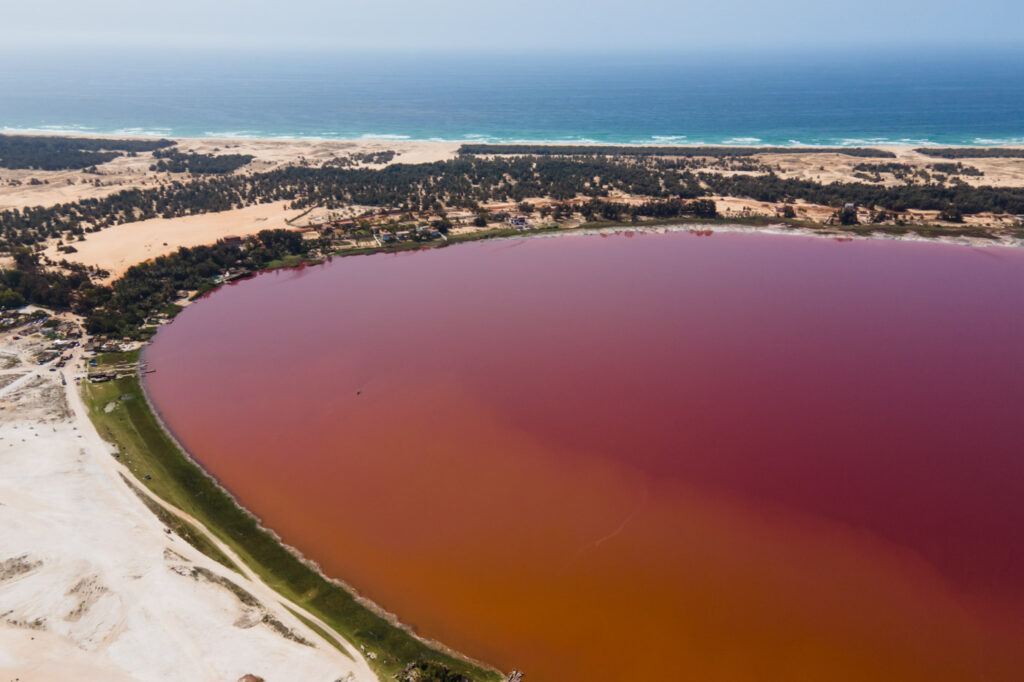 Less than an hour away from the capital city of Senegal there is an unusual lake that will surely catch the unsuspecting visitor's eye because of its unusual yet vivid pink colour.
Lake Retba (or Lac Rose as it is known by locals) is separated only by some narrow dunes from the Atlantic Ocean and, as expected its salt content is very high. Its salinity content compares to that of the Dead Sea and during the dry season it exceeds it.
This lake is famous because of its unusual yet vivid naturally occurring pink color. The color of the lake is caused by the Dunaliella salina bacteria, which is attracted by the lake's salt content. This color is especially visible during the dry season which starts in November and ends in June.
Lake Retba is not the only pink lake in the world. There are other lakes near Baku, Azerbaijan or in Jeddah, Saudi Arabia, but they are either small or not natural.
6. Tunnel of Love, Klevan, Ukraine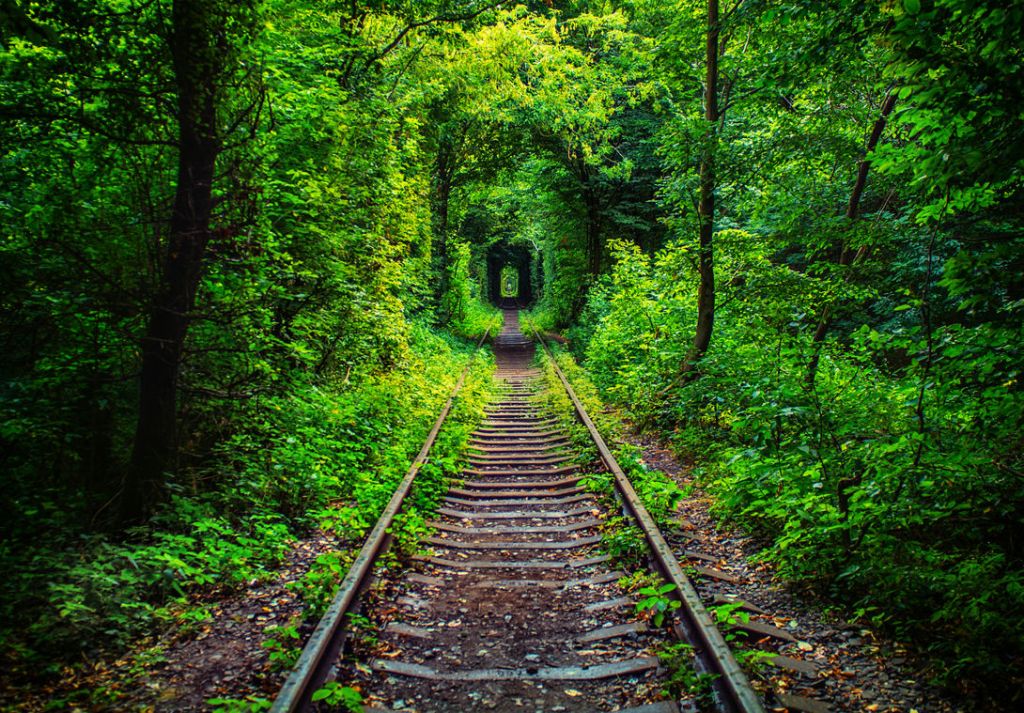 The Tunnel of Love is a section of industrial railway located near Klevan, Ukraine, that links it with Orzhiv. It is a railway surrounded by green arches and is three to five kilometers in length. It is known for being a favorite place for couples to take walks since trains pass thrice a day.
The 5-kilometre green corridor, created by trees lined up in an arch of perfect round shape, and the railway between became the main tourist attraction of Volyn, is the object of constant pilgrimage for couples in love and travellers. You can go for a walk to the tunnel at any time of year, but it is better in summer or autumn, when nature paints the leaves in incredible colours and shades, from green to gold and crimson. In the tunnel, lights and shadows play in a peculiar way and photographers adore this place.
7. Wisteria Flower Tunnel, Kitakyushu, Japan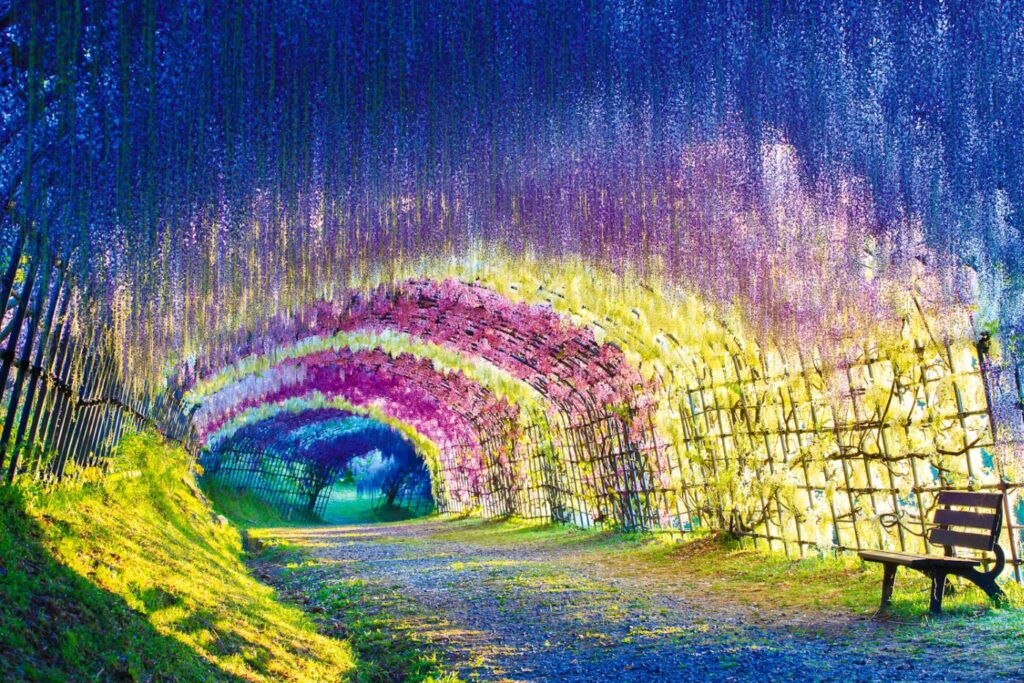 A member of the pea family, wisteria is an ornamental vine, wildly popular in both Eastern and Western gardens for its graceful hanging flowers and its ornate, winding branches.
The wisteria tunnels are located in the Kawachi Fuji Gardens in Kitakyushu, Japan, six hours outside of Tokyo. The private gardens are known for their wisteria, featuring 150 plants and 20 different species.
While peak blooming periods can vary depending on the temperature, lucky visitors may be able to catch Japan's cherry blossoms and wisteria blooms in one trip. Wisteria typically bloom around late April and early May, with slight variations depending on the type of wisteria in bloom.
8. Nevada's Fly Geyser
Nevada's Fly Geyser is an accidental manmade wonder that has created a whimsically colored and fantastically shaped desert marvel that is a must-see for Nevadans and visitors alike.
Sadly, Fly Ranch is located on private land and is not currently open to the public, but if you would like to get an up-close view of Fly Geyser, Fly Ranch is in partnership with Friends of Nevada Black Rock High Rock which offer three-hour guided tours of Fly Ranch.
9. DeadVlei – Extremely Beautiful Destinations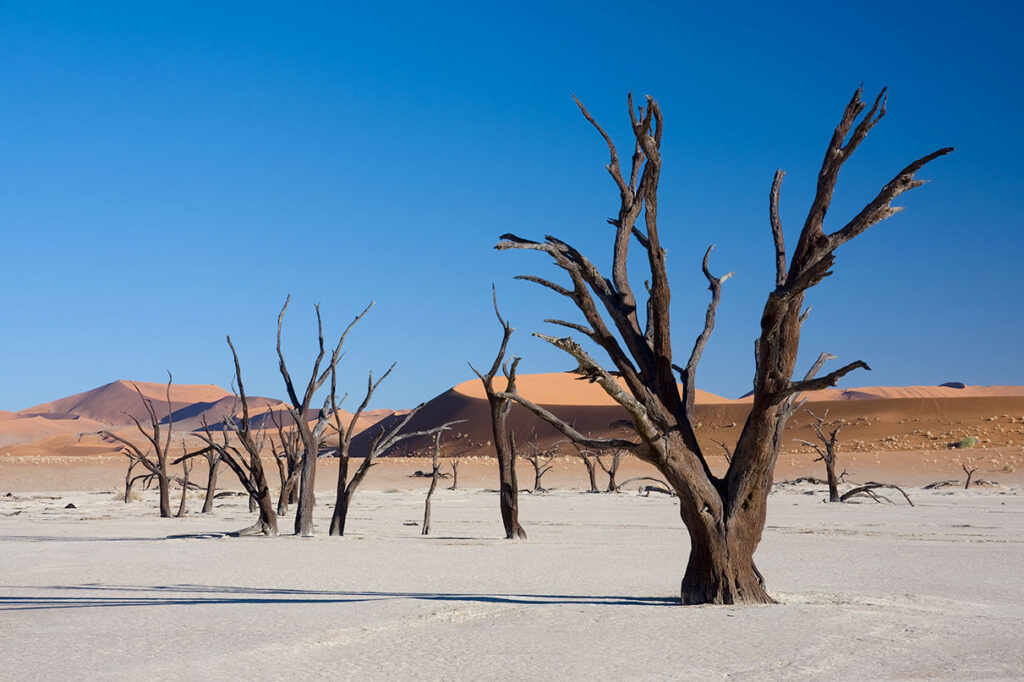 In terms of extreme, DeadVlei is not just considered one of the Beautiful Destinations, but an extreme on at that. Deadvlei is a white clay pan located near the more famous salt pan of Sossusvlei, inside the Namib-Naukluft Park in Namibia. Also written DeadVlei or Dead Vlei, its name means "dead marsh". The pan also is referred to as "Dooie Vlei" which is the Afrikaans name.
The trees are estimated to be approximately 900 years old, however they have not decomposed due to the dry climate. Deadvlei is a paradise for photographers as the contrast between the pitch-black trees and bleached-white pans, and the rusty-red dunes and deep blue sky make for incredible images.
How to reach: Fly to Namibia and take a bus or taxi to Namib-Naukluft Park.
Have fun travelling.
travellerzee.
Recommended Reading: