Being a solo traveller is fun, and most times tricky, especially as a female. These portable door locks for travellers will provide a sense of security and peace of mind, especially now, post covid. Check them below.




Why Portable Door Locks for travellers?
Portable door locks for travellers act as a reinforcement for locking doors and can also be used on doors that don't have locks, like interior doors.
One way to add an extra layer of protection against unwanted intrusions is to purchase a portable door lock. Unlike exterior locks that open with a key, portable door locks can be used only inside a room and come in a variety of forms, including keyed contraptions, metal plates, door stoppers and noise alarms.
Unless you're staying in a big hotel, it's smart to bring along a portable door lock just in case — even if you don't end up using it. And regardless of your accommodation, packing a lock is a good idea for any international travel.
Here are 8 best door locks for solo travel in 2022.
1. Buddybar Door Jammer Home Security Door Bar ($114)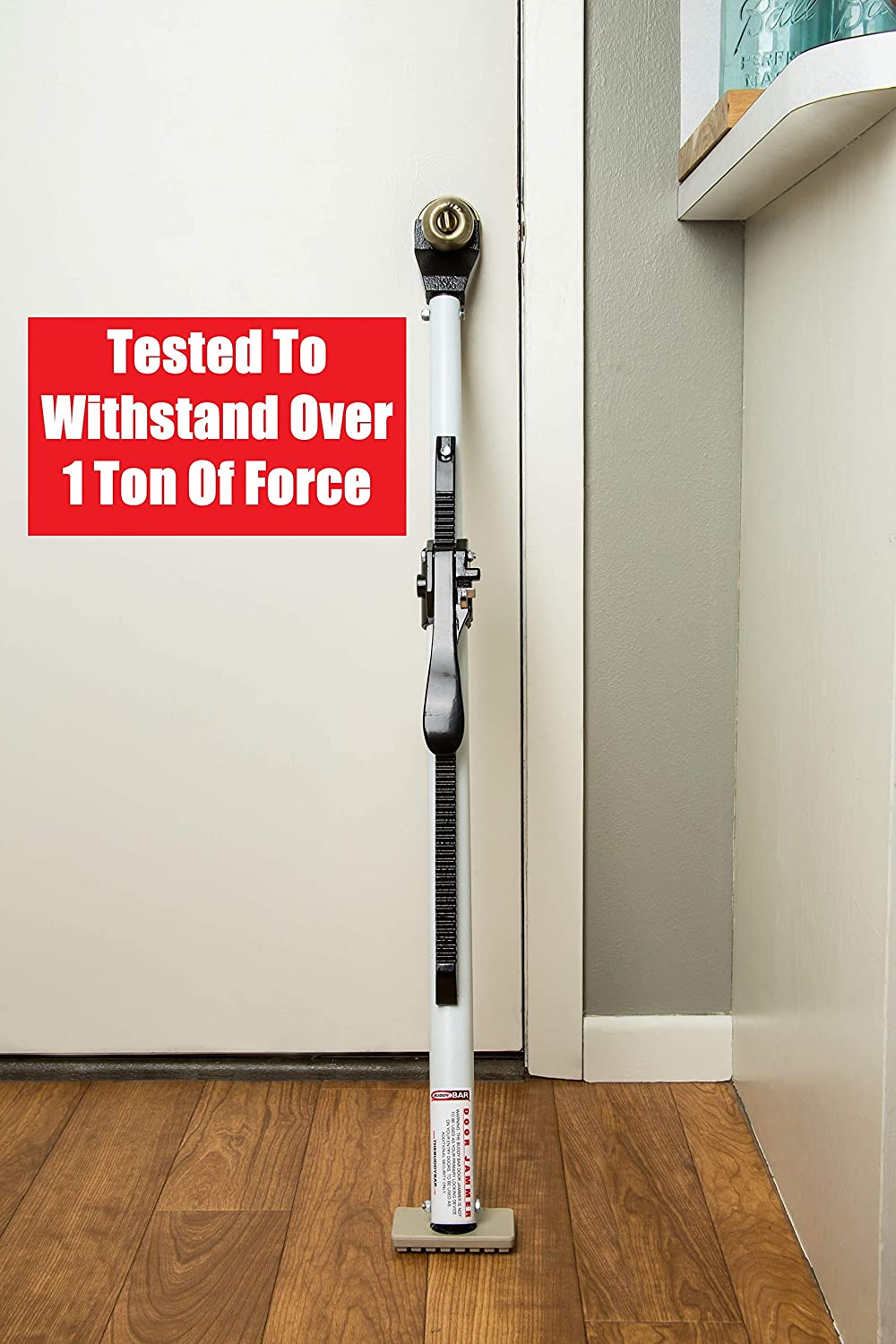 Here's what they describe:
How much is your personal and family security worth? The answer is priceless, but it won't cost you nearly that much with the Buddybar Door Jammer. One thing that separates us from all other products in this category is our strength! The BuddyBar has been tested to withstand up to 2,560 lbs of force. I like it.
2. Addalock – (1 Piece ) The Original Portable Door Lock, Travel Lock, AirBNB Lock, School Lockdown Lock ($17.95)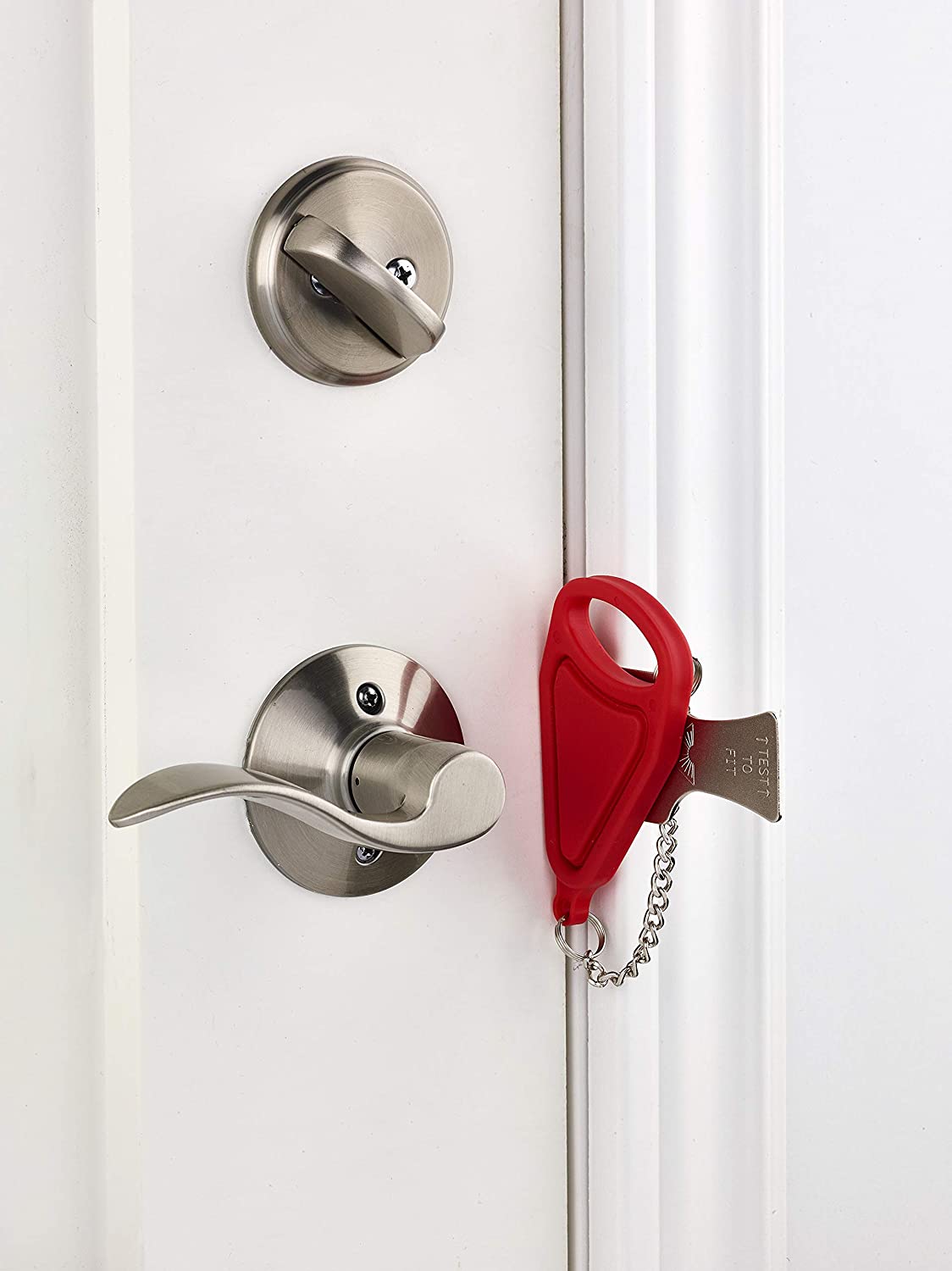 Addalock is a portable door lock that can be used on most doors that are hinged and swing inwards. Our home security door lock is designed to offer additional safety, security, and privacy in your space.
The Addalock door lock provides additional safety and privacy while you're home. This lock installs in seconds without tools and can be used for apartment security, as child safety locks and is great for a secure college dorm room.
3. SABRE HS-DSB Adjustable 2-in-1 Door Security Bar, Strong Scratch-Proof Grip, Removable Door Knob Top Sliding Doors, Portable & Easy to Use for Apt & Travel Security ($24.81)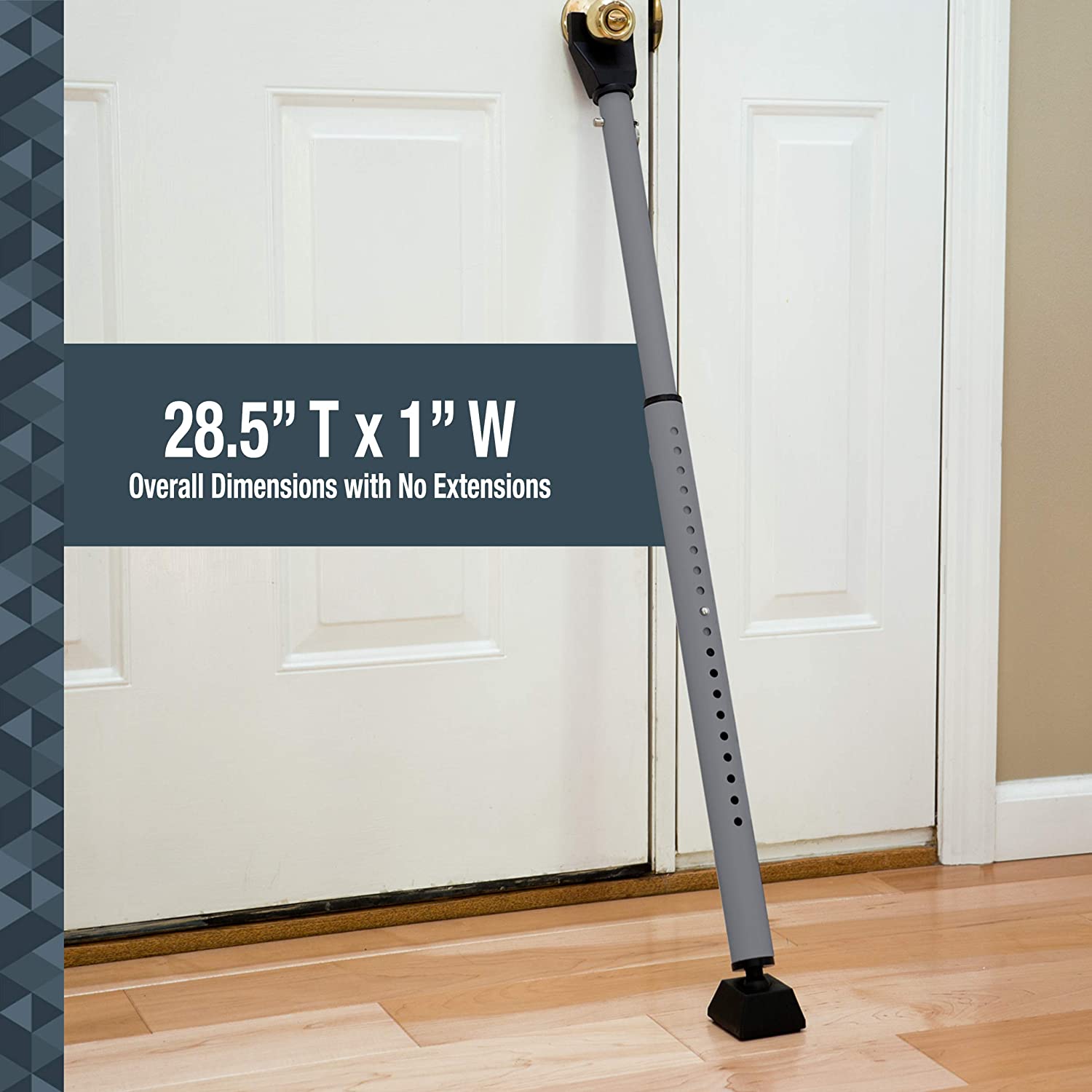 Heavy duty, dual-function security bar prevents forced entry on hinged, patio and sliding doors; For indoor use. It also has a collapsible design is easy to store and ideal for travel, providing extra security in hotels, on vacation or at the office.
Made with heavy duty 1mm, 20 gauge steel for strength and security; Pivoting ball joint ensures full contact with floor for secure fit while padded foot provides a strong grip without scratching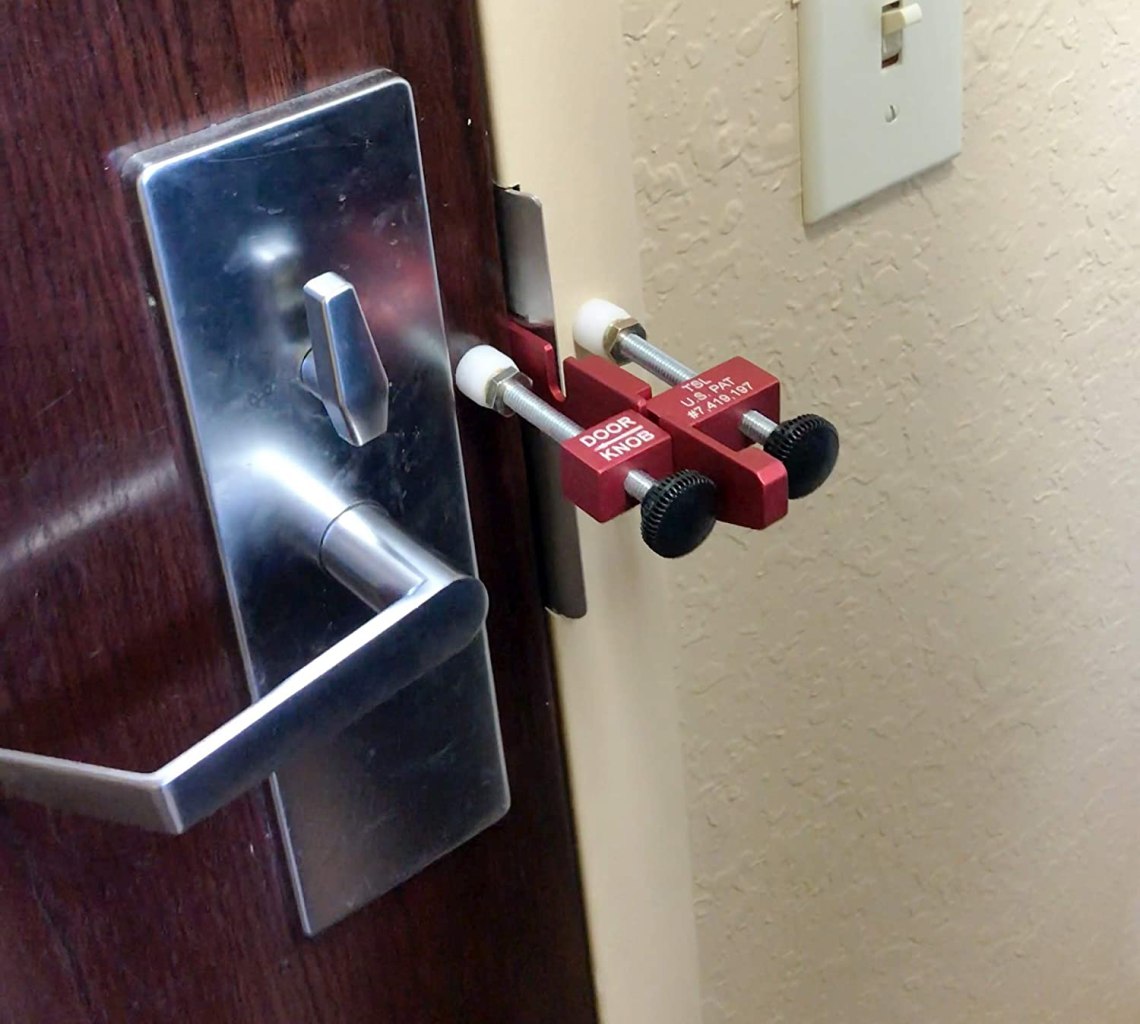 The Travelers Safety Lock is the most secure option on the list, but also the most expensive. It's constructed from aircraft-grade aluminum that will stand up to serious pressure. This portable door lock can be installed on right- or left-facing doors and is incredibly easy to install.
Here's What You'll Get:
– Travelers Security Lock – Including Locking Body & Bar
– Handy Leather Carrying Case
– Works with all doors left or right-handed always have a portable door lock that you can take with you and use on any door.
Cons
Watch their YouTube video before buying because you need a significant gap, about two pennys size gap to use this.
May not be quick to remove if there was a fire or need to leave quickly.
5. Vincrey Portable Door Lock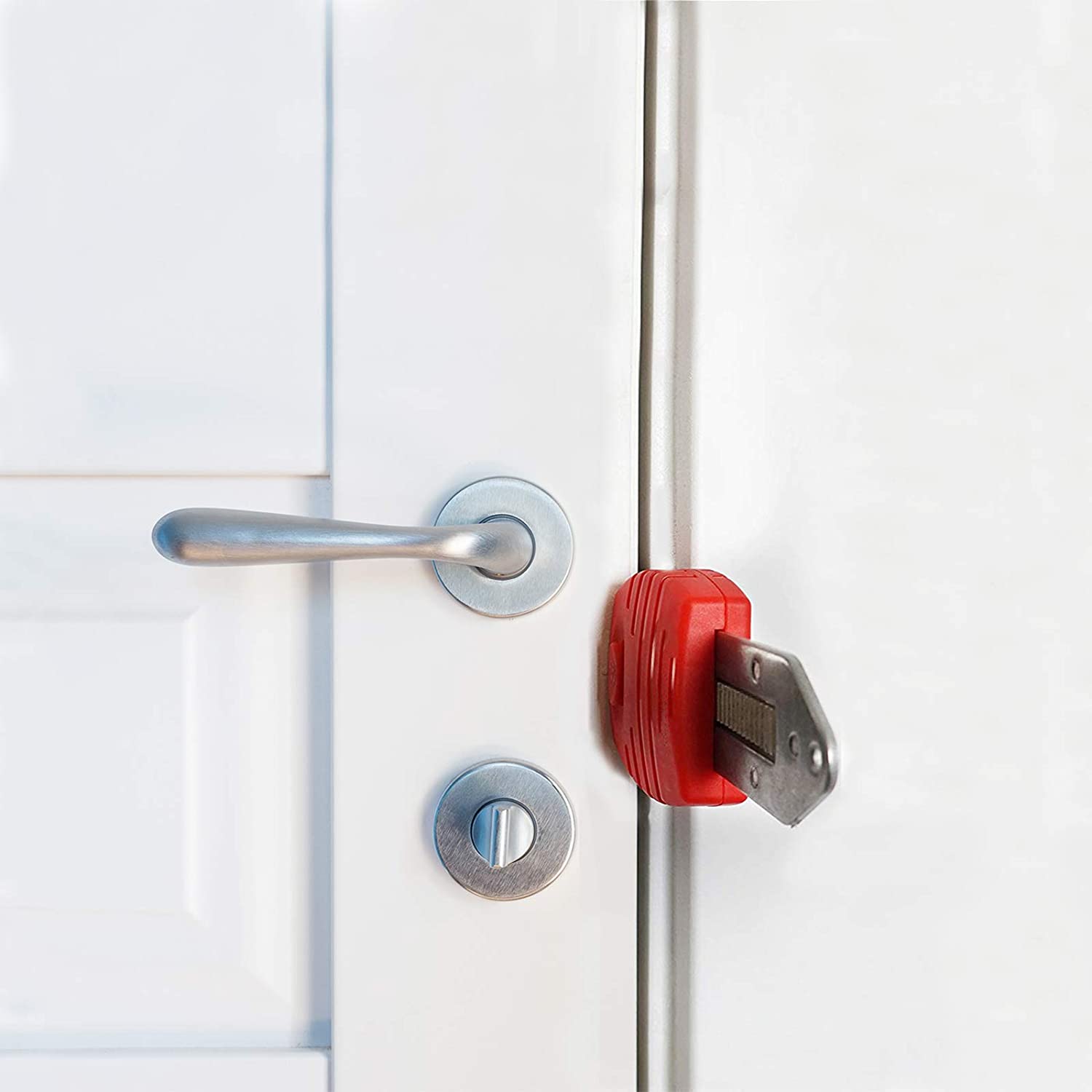 If you travel alone and want reassurance of your privacy and security, this lock is an excellent choice.
The portable door lock from VINCREY is made of heavy-duty stainless steel material that's thicker than most locks so your door stays shut no matter who is trying to get in, and it's small enough to fit in a standard bag or suitcase.
6. FEENM Upgraded Door Stop Alarm -Great for Traveling Security Door Stopper Doorstop Safety Tools for Home ($8.99)
This is not a portable door lock but is an upgrade on a door stop than others. It is more durable than others with better quality.
This has 3 Sensitivity Levels – Low – Medium – High, with an adjustable sensitivity switch on the side and also has a very loud shrill that would definitely scare someone away with 120db alarm. Weight: 128g
You can use it as common door stopper when turn down the ON/OFF switch, hold door in open position.
No installation required. Requires one 9 volt battery (Not included). Portable and easy way to add piece of mind when traveling or working alone.
This can serve, that's why it made it to our list of portable door locks for travellers.
Note: The gap between door bottom and floor should be 1 – 3.5cm.
Stay safe out there/
travellerzee