Affiliate programs help put that extra income in your pocket, and this is a fine list of 4 travel affiliate programs and 1 way to get paid in 2022 you should start on right away. In no particular order:
Best Travel Affiliate Programs in 2022
1. Agoda.com Affiliate Program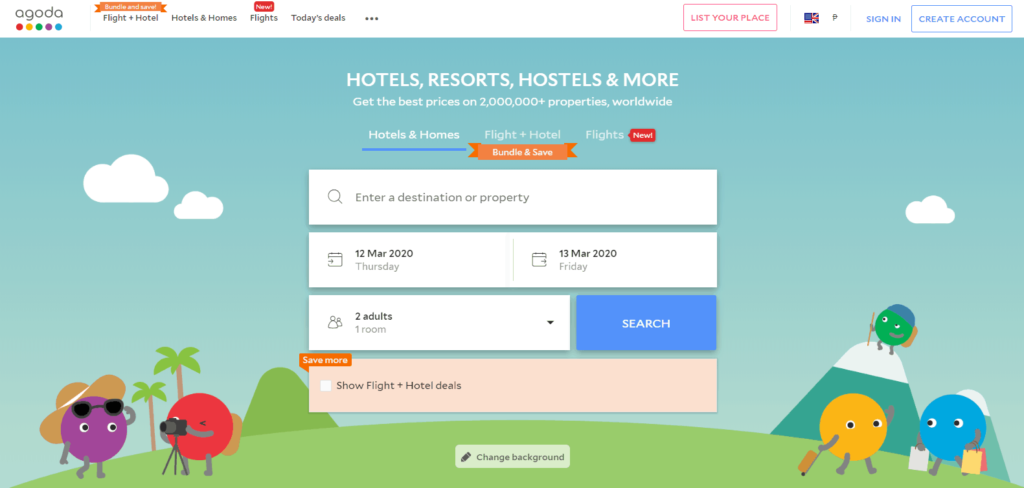 As said on their website,
'With access to 925,000+ properties worldwide, the Agoda Affiliate Program is the leading hotel affiliate program worldwide. Our program combines best-in-class tools, best prices and a proven ability to convert traffic with high commission on hotel bookings.'
With over 2,000,000 vacation properties worldwide and providing service in over 38 languages and specializing in the best deals for business and vacation travels, Agoda is one of the biggest booking agencies in the world.
Agoda Affiliate FAQs
Agoda provides affiliates with a variety of banners, text links, and coupons.
There is no costs to join the Agoda affiliate program. Affiliates can get started for free.
Agoda tracking cookies last 1 days, meaning that if a visitor clicks on your affiliate link, then you will be credited with the referral as long as they sign up within 1 days.
The main downfall is that the affiliate cookie ends with the same session the referral leaves Agoda.com website, and the fact that minimum payout is $200, which is high for beginners.
Agoda Affiliate Payout Methods
So far, the only payment method from the Agoda affiliate program is direct deposit to your bank but if you don't have an American or European bank account, you can use Payoneer, which is an online banking service that gives you a virtual bank account that allows you to receive direct deposits in USD, Euro, GBP, and some other major currencies.
Become an affiliate with Agoda
2. TripAdvisor Affiliate program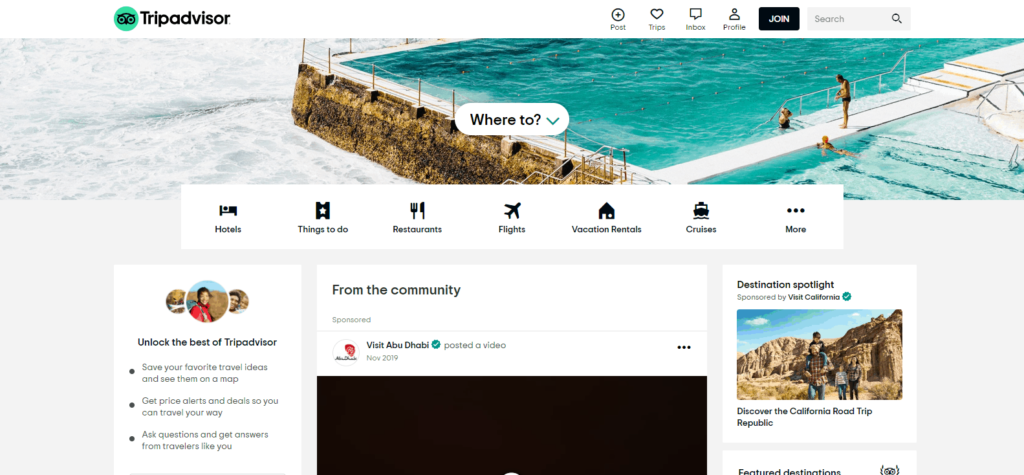 TripAdvisor is easily one of the best affiliate programs available right now.
Tripadvisor helps millions of travelers around the world discover great ideas for their trips, while making their travel smooth and unforgettable. The site has over 980 million reviews and 8 million places to stay.
On TripAdvisor, you can link to restaurants, attractions, and accommodation.
TripAdvisor FAQs
Publishers create content and earn money through click-outs.
Customers click on the affiliate link on the publisher's website that directs them to the TripAdvisor website, where they can book a getaway.
Each time a customer clicks a link, banner, or ad on the website, publishers earn a minimum 50% commission.
Publishers will earn a 50% commission from every successful transaction they make through their TripAdvisor affiliate link.
No matter what you write on, TripAdvisor only pays commission on hotel bookings.
Choose an Affiliate Network Partner: You need to sign up with one of two affiliate networks: AWIN or CJ. Signing up for both of these networks is free, and both offer the same program terms. These network partners are the ones who provide you with link generators, manage user tracking, and pay the commissions.
Search for TripAdvisor: Once you have an account on one of these networks, search for TripAdvisor and apply through the network.
Create Your Links: Upon approval, you will receive clickable links you can use on your site to direct traffic to TripAdvisor.
3. Booking.com Affiliate Program
Booking.com has one of the best Travel Affiliate Programs that lets users reserve hotel rooms, buy plane tickets, and book cars or airport taxis. You can sign up for free and get approved immediately.
But wait for the fine print…
The Booking.com affiliate program offers 25% in commissions to its affiliates, but you don't actually earn 25% of the value of one booking. You do, however, earn 25% of what Booking.com's commission would be if you weren't to be the intermediary of the transaction.
The scenario:
So, let's suppose someone pays $200 for a stay at a B&B. Booking.com will get 20%, so they'll make $40. Out of the $40, you get 25%, which means you're getting $10. – Source
For payments, You can be paid through direct deposit (in several different currencies from Euros and British Pounds to US Dollars) or Paypal.
Just like google Adsense, You need to make at least 100 euros (about $110-$120) in order to transfer your money into your Paypal account.
4. Skyscanner Affiliate Program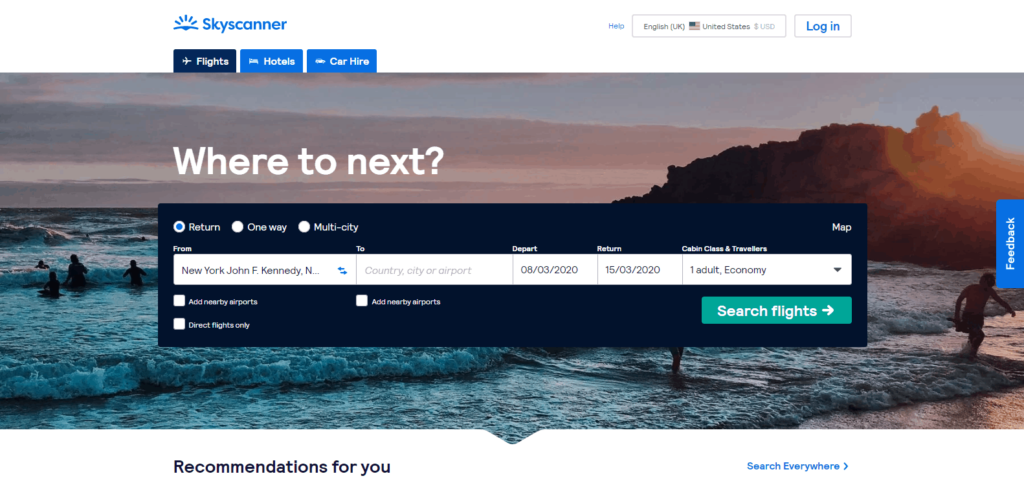 Skyscanner has an affiliate program in the Airline niche with commissions up to 20% Direct and booking on Impact.
You have three different ways to sell Skyscanner's products:
Embed widgets on your website.
Use the company's text links or banners or generate your own unique referral link.
Create an innovative travel website or app by connecting to Skyscanner's Flights API.
Skyscanner reduces the risk for affiliates by offering payments for clicks rather than sales. With this said, if Skyscanner and its suppliers do not receive sales after your clicks, your rate will be reduced or, as some partners mention in reviews of the Skyscanner affiliate program, you may be completely disconnected.
How does Skyscanner pay?
Skyscanner is paid by partners (OTA and airlines) when users redirect from Skyscanner on to their website. If users are brought to the website by an affiliate partner then they share 50% of the generated revenue with affiliates. The commission is paid on Skyscanner generated revenue, not booking or basket value. Example: if Skyscanner earned £10 revenue from booking, the affiliate publisher will get £5 commission.
More details are in the program descriptions on a country level in each of the Affiliate Networks. If you are accepted to the Skyscanner program, you can start monetizing your activities straightaway. Payments will be processed by the network's terms and conditions.
Get started with Skyscanner Affiliate 
5. Payoneer (Payment for your affiliate commissions)
Payoneer is not a travel affiliate program but IS one of the main ways you get paid by these affiliate programs if you don't live in the US.
Your Payoneer account is your key to unlock a universe of opportunities. Whether making international payments, receiving funds, managing your digital business, or accessing capital, Payoneer opens your business up to the world.
How does it work?
Payoneer allocates a virtual US account number to their subscribers. These details will contain your checking number and routing number. Those would be the detail you need whenever you want to receive payments into a US bank account.
Register for a Payoneer Account
Here are the steps you need to apply for a Payoneer account to start receiving funds.
Fill in your full name, address and other details.
Set password, Secret Question and Answer and select your ID type e.g driver's license, National I.D card, etc.
Enter alternate address if it's different from the address you provided earlier.
hope this helps.
Zee
Recommended Reading