Places to visit in Nairobi? Well, you're in the right place. Nairobi is fun. I've been there twice and intend to be back again, this time – to relax. Let's look at the fine places to visit in Nairobi.
Note: Bookmark this post, you will need it!
1. Uhuru park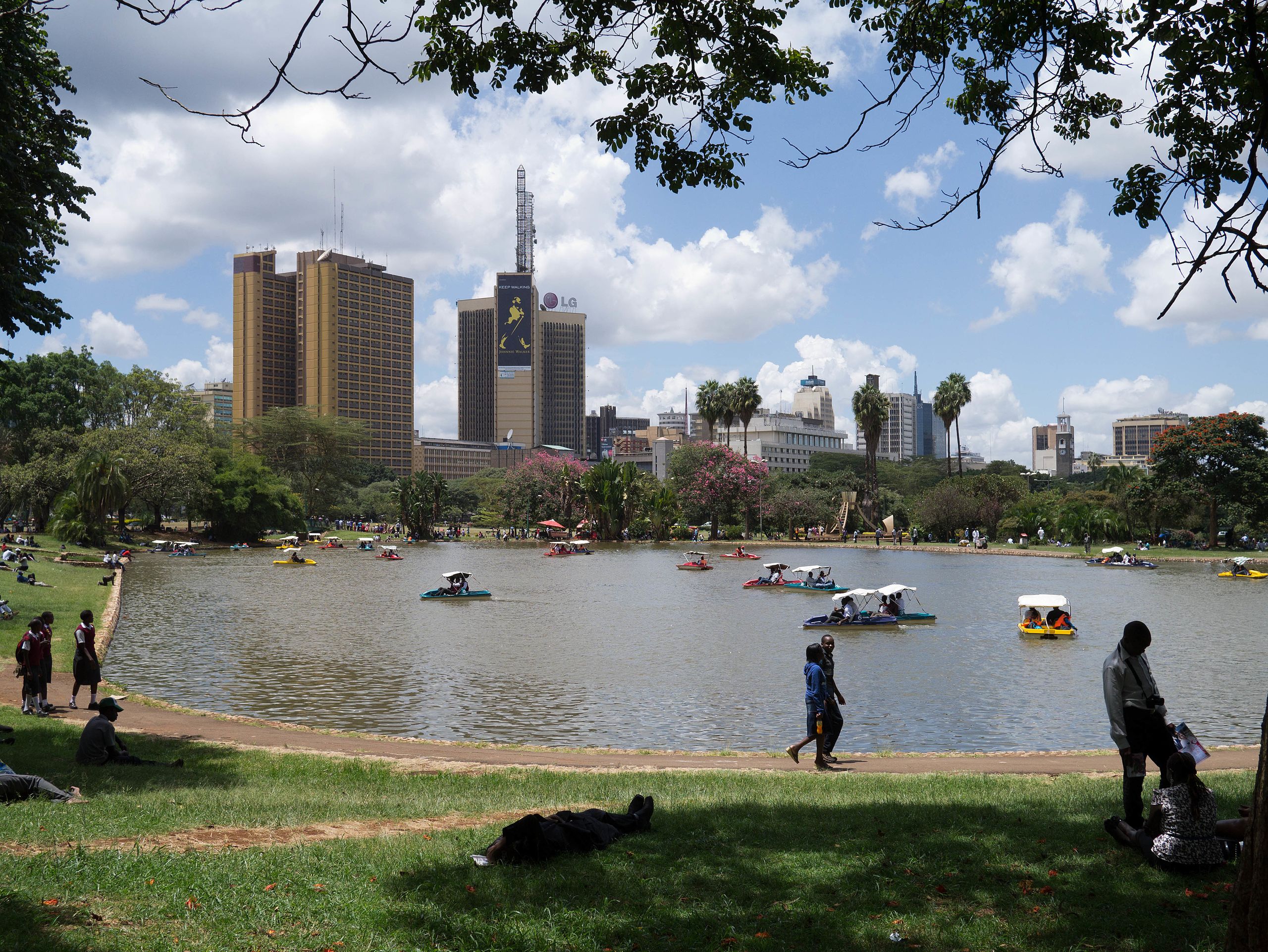 Uhuru Park is a 12.9 hectare recreational park adjacent to the central business district of Nairobi, Kenya. It was opened to the general public by the late Mzee Jomo Kenyatta on 23 May 1969. It contains an artificial lake, several national monuments, and an assembly ground which has become a popular skateboarding spot on weekends and greenery.
Also known as the Freedom Park, it is one of the city's chief meeting places for locals to relax, filled with well-tended gardens and shady trees forming a green lung within a walking distance of the city center.
There is an artificial lake in the park where many visitors like to take boat rides or walk over the foot bridges to the island. Wandering through the park you are likely to see many people enjoying picnics, outdoor sports and even dance groups rehearsing.
Notes:
There aren't any entrance fees but if you are driving expect to pay about 300 kes or $3 for city council parking fees.
There are paddle boats that seat 4 people and cost 300kes per boat for a 30 minute ride.
The activities at the park close by 5:30 pm and there are rarely any night activities.
The park is always open but like any other city park it is not safe at night so don't be there after sunset.
2. Nairobi National Park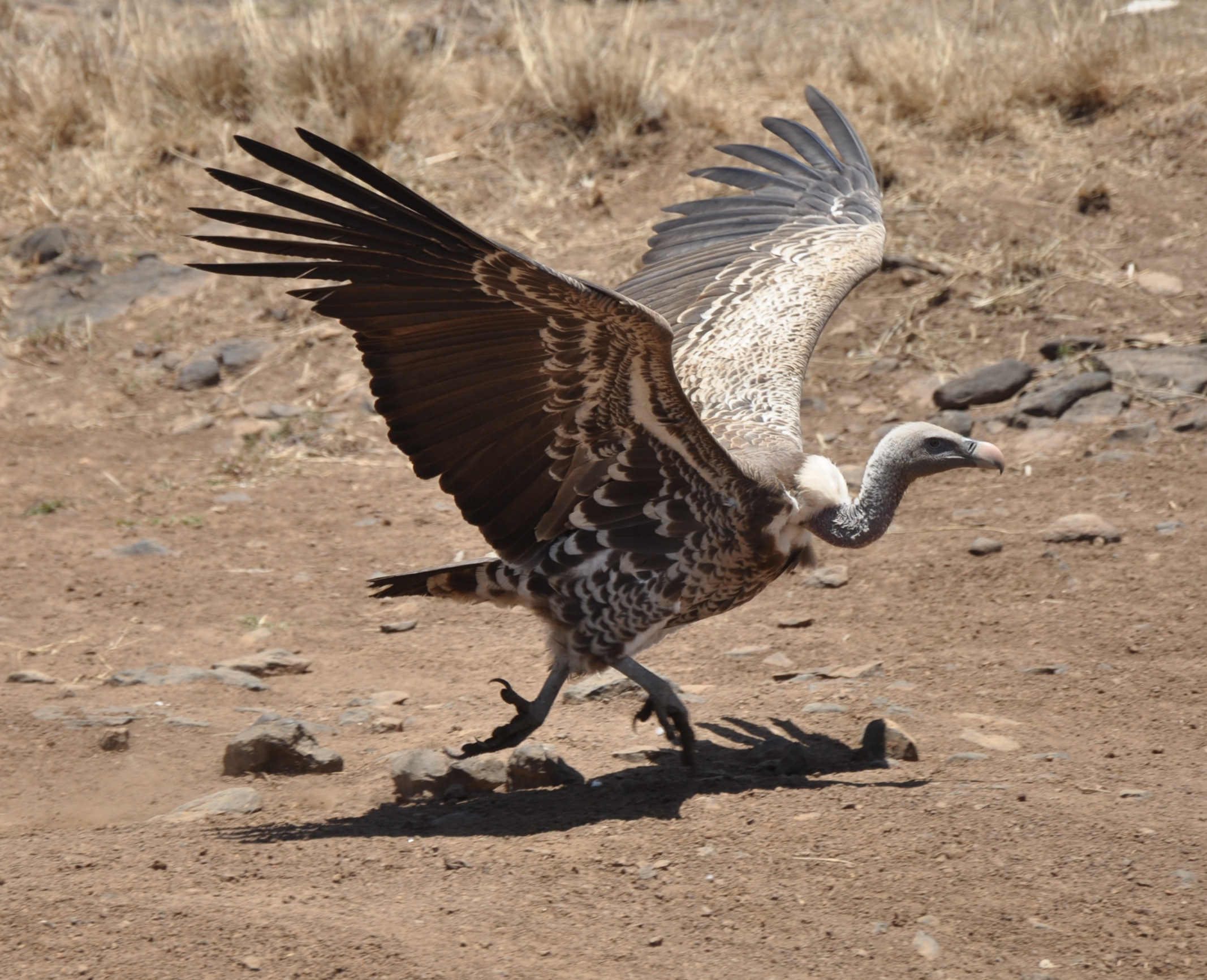 Nairobi National Park is the main tourist attraction for visitors to Nairobi. Herbivores gather in the park during the dry season. Despite its proximity to the city and its relative small size, it boasts a large and varied wildlife population, and is one of Kenya's most successful rhinoceros sanctuaries.
Visitor attractions include the park's diverse bird species, cheetah, hyena, leopard, and lion. Other attractions are the wildebeest and zebra migrations in July and August, the Ivory Burning Site Monument, and the Nairobi Safari Walk and animal orphanage.
Park entry fees are:
Citizen adult ksh 500 child ksh 300,
Resident adult ksh 1200 child ksh 600,
Non resident adult USD 50 child USD 25.
3. Mount Kenya National Park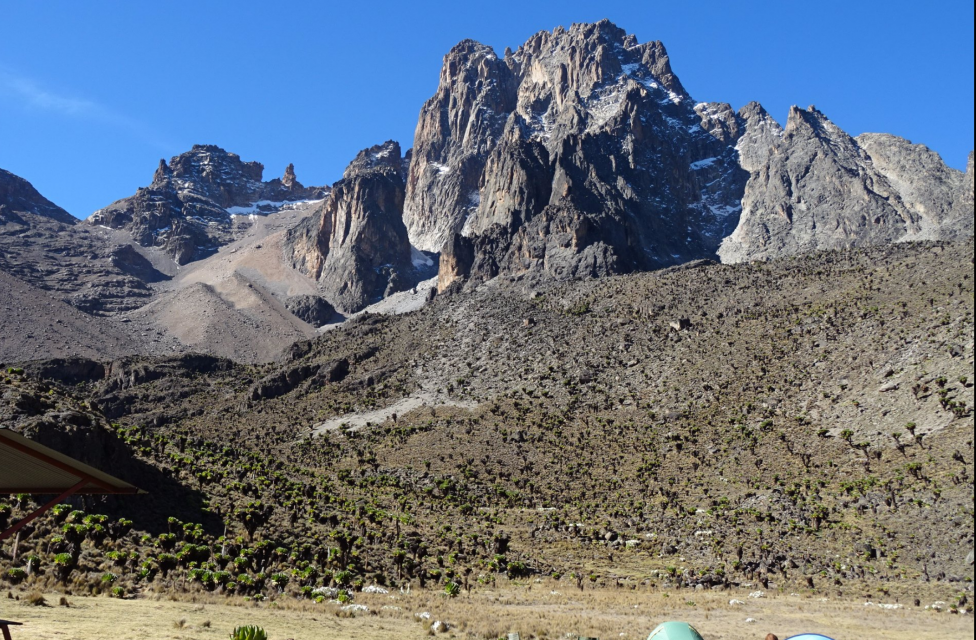 Mount Kenya National Park was established in 1949 to protect Mount Kenya, the wildlife and surrounding environment, which forms a habitat for wild animals, as well as acting as an area for the catchment of water, to supply Kenya's water.
How much does it cost to hike Mount Kenya?
Currently the entrance costs are $150 per adult for a three day package, $220 per adult for four days or $300 per adult for 5 days. This covers the entrance fee plus camping fees. So for a typical 5 day Sirimon Naro-moru route Nairobi, you'll need to pay for 4 days in the park at $220 per person.
The climbing is excellent, as is the camping. And when the mists burn off, the vistas are magnificent. Here, in this UNESCO World Heritage Site you can begin your trek in tropical forest, spotting buffalo and elephant.
This, of course, is the main draw of Mt. Kenya Park – the chance to climb a lofty summit rising above the heat and savannahs of Africa and partake in the deep wilderness panorama.
4. Nairobi National Museum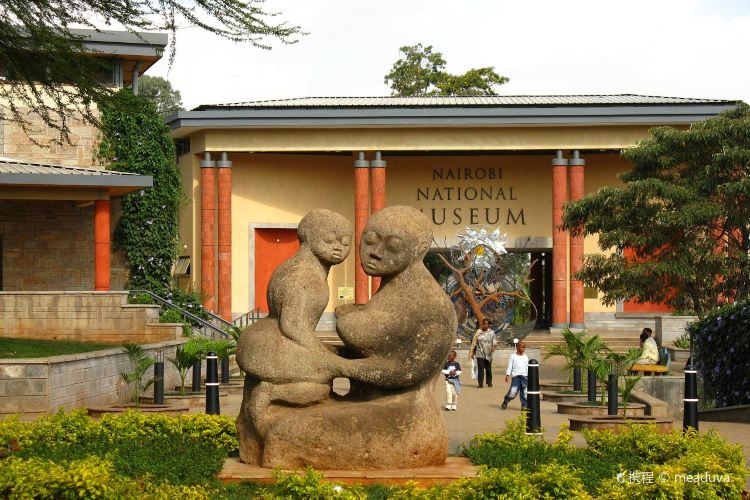 The Nairobi National Museum is the flagship brand for the National Museums of Kenya. Located on Museum Hill, the museum showcases Kenya's rich Heritage with four distinct themes representing Kenya's Culture, Nature, History and Contemporary Art.
Other attractions within the compound include the Snake Park and Botanical Gardens as well as a State of the Art Auditorium that occasionally hosts concerts, film shows and other events.Dining and shopping facilities await you after your tour with us in our commercial wing.
Location: The museum lies at Kipande Road in Nairobi, Kenya
Timings: Mon-Sun: 8:30 AM to 5:30 PM
Price: Adult: 300 KSH; Child: 150 KSH
5. David Sheldrick Wildlife Trust
The Sheldrick Wildlife Trust operates an orphan elephant rescue and wildlife rehabilitation program in Kenya. It was founded in 1977 by Dame Daphne Sheldrick to honor her late husband, David Sheldrick. Since 2001, it has been run by their daughter, Angela Sheldrick.
Location: Mbagathi Road Kws Workshop Entrance – Nairobi National Park, Nairobi 00503 Kenya
Timings: Mon-Sun: 11:00 AM to 12:00 PM
Price: 500 shillings
6. Giraffe Centre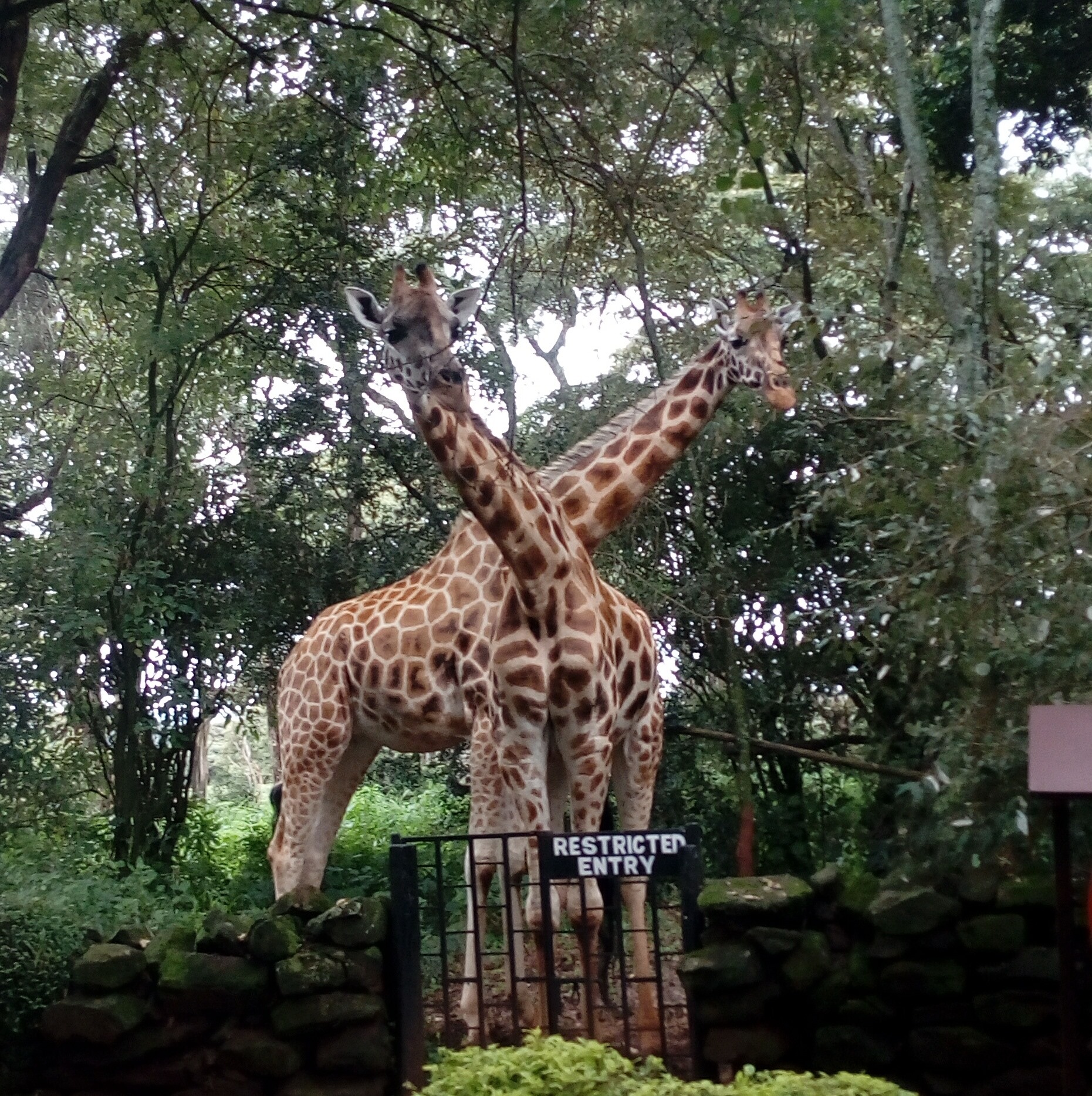 Not exactly inside Nairobi, but most necessarily one of the Places to visit in Nairobi, the Giraffe Centre is located in Lang'ata, approximately 20 kilometres from the centre of Nairobi, Kenya. It was established in order to protect the endangered giraffe, that is found only in the grasslands of East Africa. The centre is also equipped with an education centre for tourists. Visitors can entertain themselves with the heart warming views of feeding giraffes from a raised platform. You can also view a number of warthogs in the centre.
Notes:
How much is Giraffe Center? Kshs. 400 for resident adults and Kshs. 1,500 ($15) for tourists.
Open from 9:00 AM to 5:00 PM every day including weekends and all public holidays
See Location
7. Karura Forest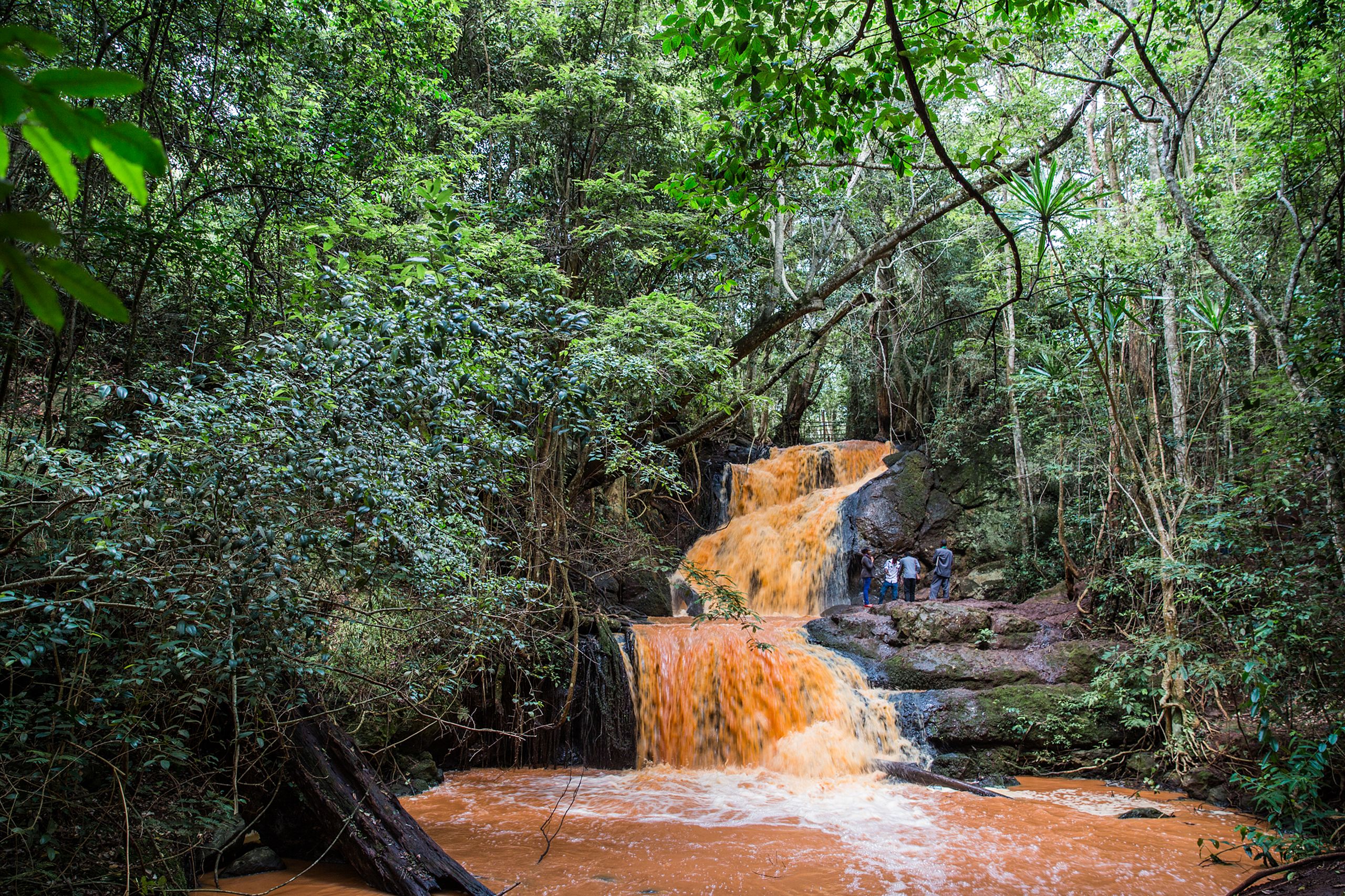 Nestled at 1041 hectares, Karura Forest is one of the largest urban gazetted forests of the world and one of the most interesting places to visit in Nairobi. This far fetched topographical area is one of the most prominent backwoods on the planet that lies completely within the constrains of the city. The forest houses about 605 species of wildlife that are found Nairobi. This also includes 3 different types of antelopes. It is managed and operated by the Kenya Forest Service (KFS). Some of the most prominent activities that can be undertaken in the Karura Forest include Bird Watching, Cycling, Picnicking, Butterfly watching, Forest Drives and Forest walks.
Hours: Sun – Sat 6:00 AM – 6:00 PM
Location: Limuru Road Muthaiga, Nairobi 00619 Kenya
Entry Price: Price: 600 KES
8. Nairobi Safari Walk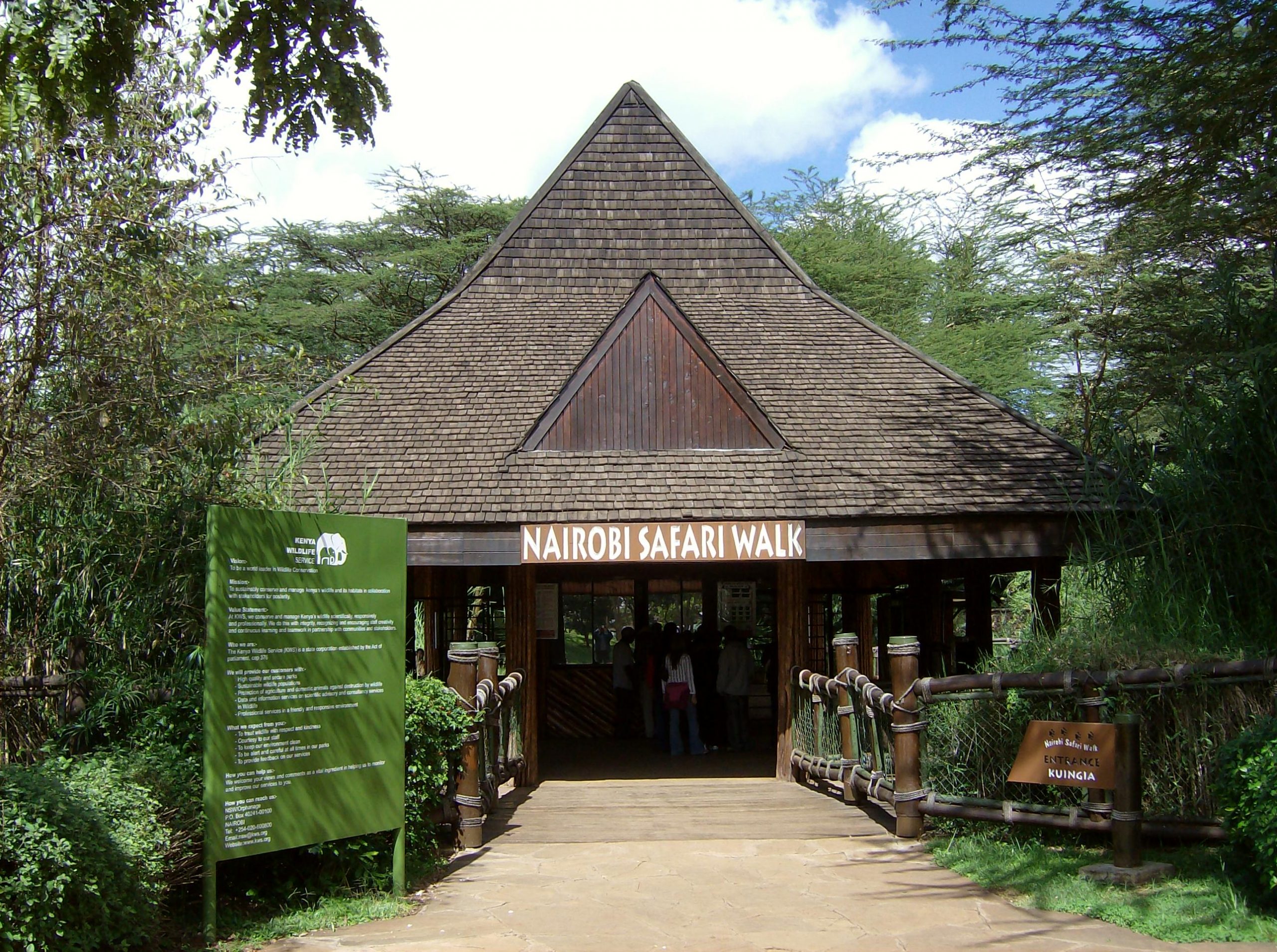 Taking a walking adventure in Nairobi Safari Walk is an exciting activity. It's a great way to experience African wildlife and nature on foot.
With its raised wooden boardwalk that allows for uninterrupted views of the animals, the Safari Walk is a show case for Kenya's Parks and Reserves, allowing visitors to discover what they can expect to see across the country. Visitors can see a sample of the country's rich animal life including the rare bongo, white rhino and albino zebra as well as big cats, antelopes and primates. It is also home to some 150 species of local trees.
Entry Fees:
Adults: East African Citizens- KES 150/= East African Residents KES 300/= Non Residents USD $20
Children: East African Citizens- KES 50/= East African Residents KES 150/= Non Residents USD $10
Students: East African Citizens- KES 50/= East African Residents KES 150/= Non Residents USD $10
9. Bomas of Kenya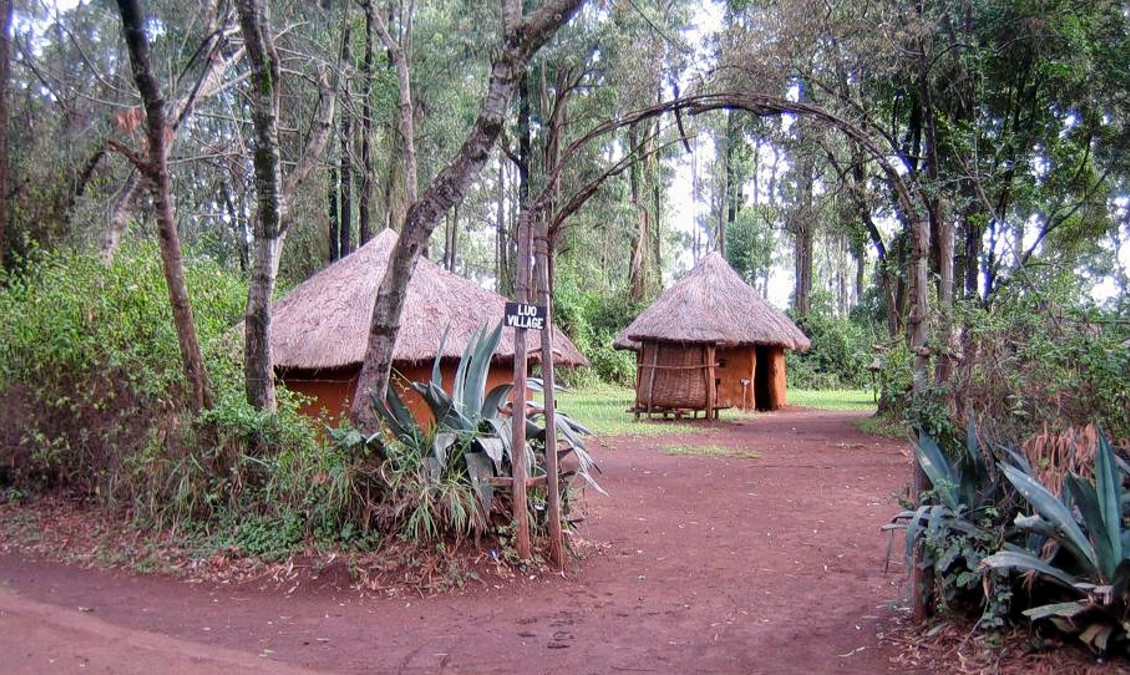 Bomas of Kenya was started by the Government of Kenya in 1971 as wholly owned subsidiary of the Kenya Tourist Development Cooperation (KTDC) the Company was established to Preserve, Maintain and Promote the Rich Diverse cultural values of various ethnic groups of Kenya and to act as a tourist attraction centre thus Bomas of Kenya is expected to preserve the authenticity of the Kenya's Cultural values and to portray them in the pure form. At the Bomas of Kenya currently we have fourty seven (47) different traditional dances collected from different tribes of Kenya.
Displaying the culture and history of Kenya like a miniature, the Bomas of Kenya allows its visitors to relive and experience the deep culture of this place. You will find an array of living styles, music, crafts and dancing styles, peculiar to this place, at display, in The Bomas of Kenya. Several shows and acrobatic dances are organised here from Timings to Timings. If you are visiting Kenya, these are definitely worth the wait. Different shows are hosted as per event calendar over here.
Location: The Bomas of Kenya lies 10 kilometre ahead of Nairobi national park in Kenya. The show opens even on public holidays.
Timings: Mon-Sun: 8:00 AM to 5:00 PM
Price: 600 KSH
10. Village Market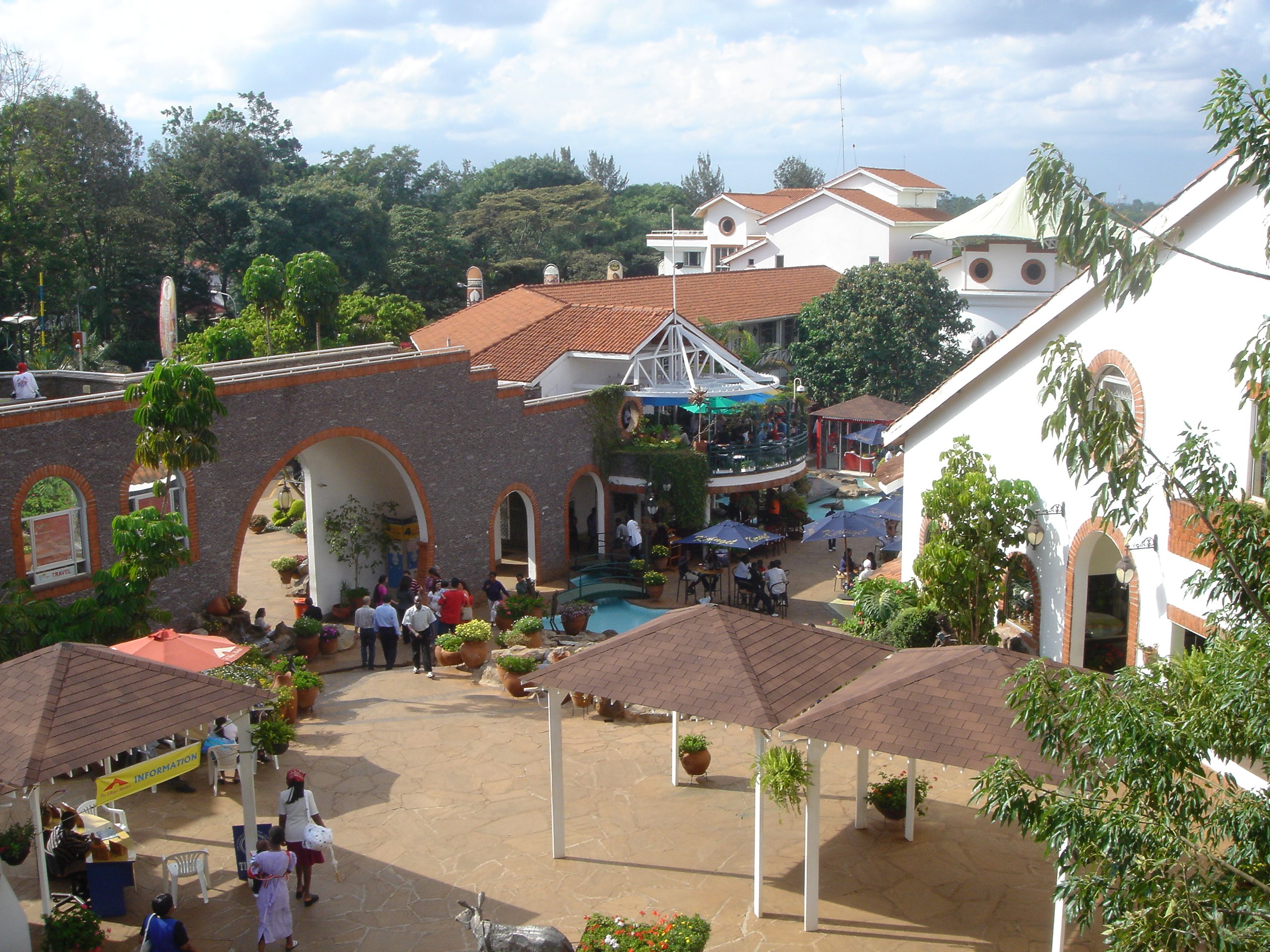 Village Market is a Large retail complex with an eclectic mix of stores & restaurants, plus a sophisticated vibe. Definitely one of the most interesting places to visit in Nairobi. I've been here, and it was amazing.
The complex is home to over 150 outlets covering 210,000 square feet of retail space, 20,000 square feet of office space in addition to a host of recreation facilities. The mall essentially provides residents of the area with high-end shopping and entertainment, satisfying a niche that was not previously explored. As the name suggests, the complex embodies the spirit of the African market in an open-air setting. To live up to its African theme, are waterfalls, rivers and over 2000 exotic plants and gardens, giving this magnificent shopping centre an edge over other shopping malls.
Open everyday from 7am – 11pm.
11. Railway Museum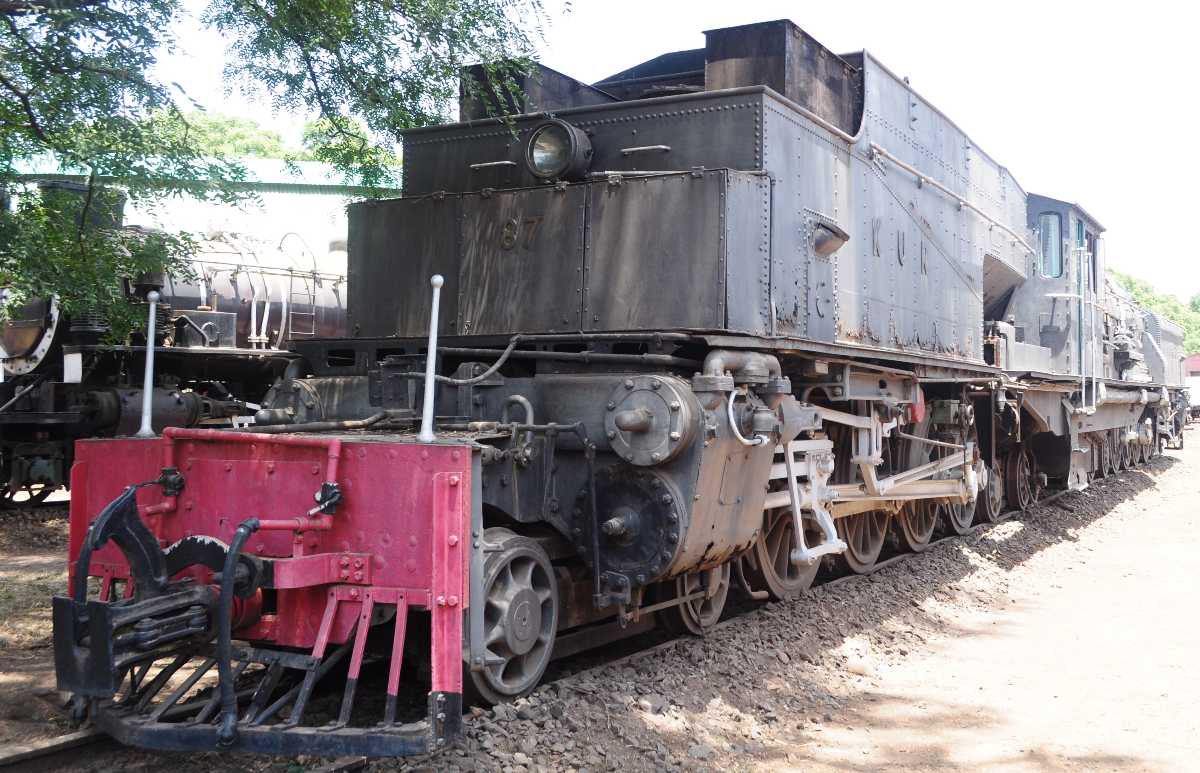 Built in 1971, the world famous Nairobi Railway Museum is a spectacular landmark promising to protect and showcase the precious antique records of the railways of East Africa. The museum has many galleries displaying the age old collections of local trains.
The vast collection is housed in an old building near the railway station of the city. All the major relics of the Eastern African Railway has been well recorded here. There are small and large simulations of trains, tracks, and even ships, which educates the travellers about how the railways originated and developed to be what it is today. Visitors come in millions all round the year to witness this intriguing prologue of the colonial history.
Timings : 8.45 AM – 4.45 PM
Entry Fee : Adults: 400 KES (~ USD 6)
Children: 100 KES (~ USD 2)
12. Karen Blixen Museum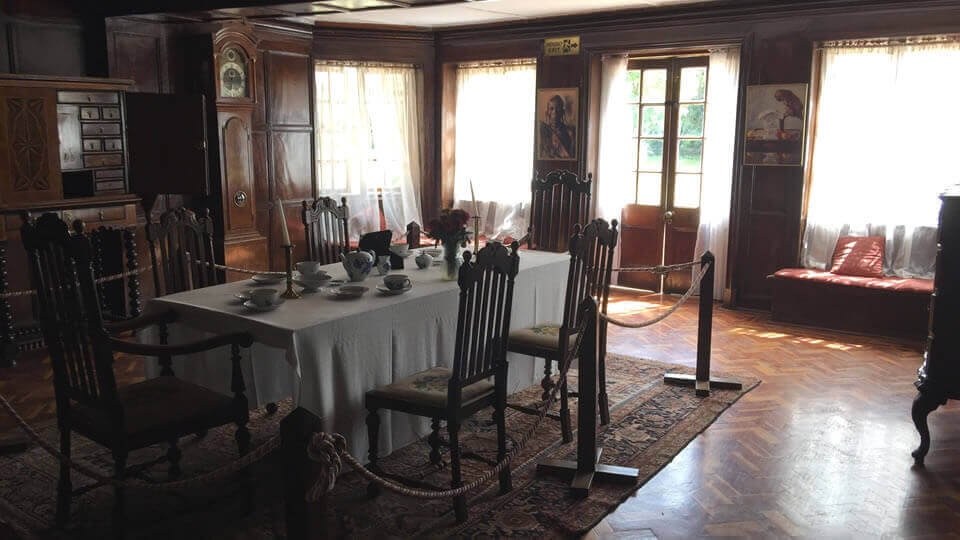 The Karen Blixen Museum features décor items which date back to its original Timings, as well as certain props. Even the grounds are open for touring, which can also be rented for hosting weddings and corporate functions. There is a small gift shop, which sells souvenirs. The location of the bungalow was carved out of coffee farms in the earlier day. One can get here easily by public transport. The museum is home to some of the prized possessions of Karen Blixen that she left behind post stay.
The Karen Blixen Museum is open seven days a week from 9:30 a.m. to 6 p.m. Visitors are suggested to arrive no later than 5:30 p.m. Guided tours are offered daily.
Location: The Karen Blixen Museum lies approximately 10 kilometres outside of Nairobi in Kenya.
Timings: Mon-Sun: 9:30 AM to 6:00 PM
Price: Adult: 300 KSH; Children: 150 KSH
13. Masaai Market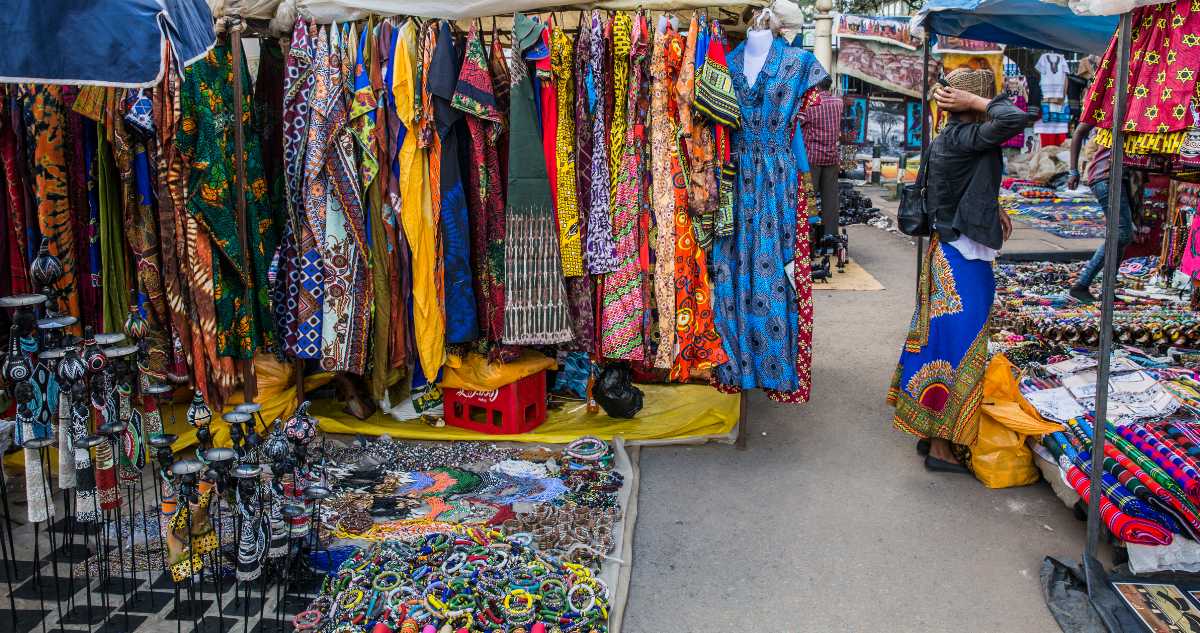 The Masaai Market is another fun place in this our places to visit in Nairobi list and is a must-visit for handicraft shoppers. From the historic African paintings to amazing handicrafts, this endless market is all the more attractive because of its cheap rates.
The Masaai Market of Nairobi is well known for its energy, vibrancy and colour. It is a festival in itself, displaying endless collections of art and craft works. Buy unique African souvenirs for your loved ones at really reasonable prices or interact with the local buyers and customers to know more about the shopping culture of the city.
Timings : 9AM-6PM
Entry Fee : N/A
Locations:
The Maasai markets are held in different locations throughout the week as follows;
Saturday: High Court Car Park (Nairobi City Center)
Sunday: High Court Car Park (Nairobi City Center)
Tuesday: Prestige Plaza (Ngong Road)
Wednesday: Capital Center Mall (Mombasa Road)
Thursday: The junction Shopping Mall (Ngong Road)
Friday: Village Market & Lavington Mall
14. Ngong Hills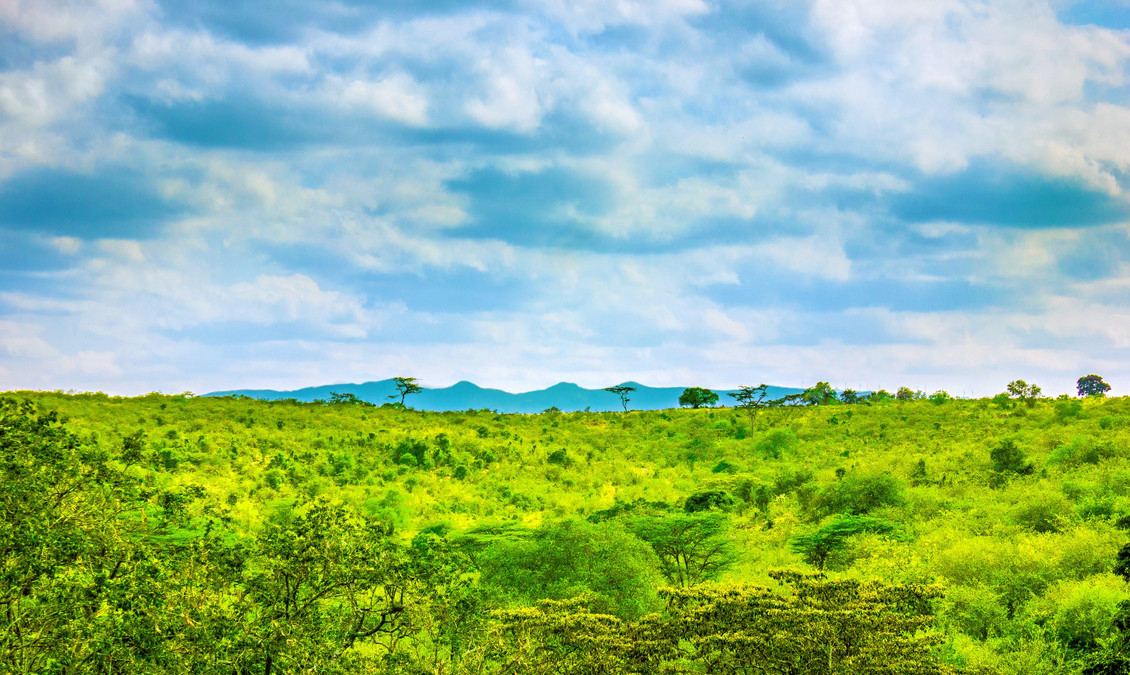 Ngong Hills is a prominent weekend destination for visitors from around the country and one of the nicest places to visit in Nairobi too.
People visit Ngong Hills to take long walks while others come here to picnic. Both amateur and professional runners as well as joggers also come here. The whole mountain range is actually a gazetted forest reserve that is spread over an area of 21,000 sq. km. Here the highest peak is located at 2460 meters above the sea level and is in the shape of a knuckle.
Location: Ngong Hills is in close proximity to Nairobi. It lies about 22 km south west of the city.
Timings: This hill is open all through the year.
Price: Free.
15. National Archives

The Building has a British architectural design and used to serve as the Bank of India. It was built in 1906 and now serves as the custodian of Government archives and records. National archives have a collection of stamps, tribal weaponry, drums, masks, artifacts, instruments, clothes, and other ancient items.
The main floor gallery displays historical documents and a collection of photographs. Paintings and artifacts from the collection of Joseph Murumbi, one of Africa's most famous collectors, dominate the exhibits. The second floor houses more art, a display of postage stamps, and the National Archives reading room, which is used for personal and professional projects.
Location: Along Moi Avenue opposite Nairobi's Hilton hotel
Entrance Fees: Kshs 50
16. Kazuri Beads Factory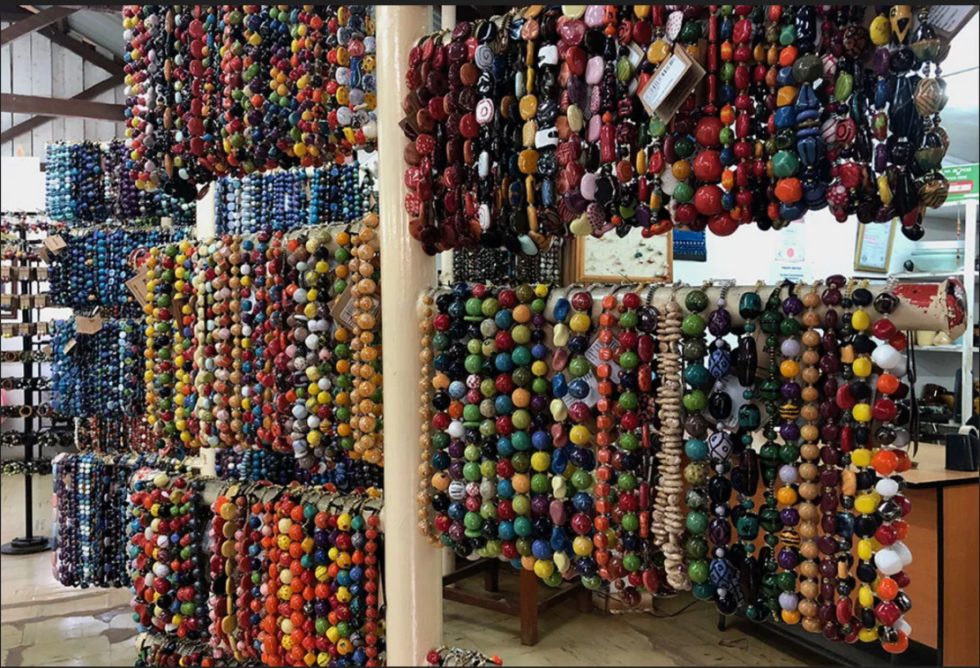 The Kazuri Beads Factory is another of the interesting places to visit in Nairobi. I got some nice pieces the last time I was there. Its a great place to shop and help out disadvantaged local women at the same time. Kazuri means "small and beautiful" in Swahili, and these shiny, brightly-colored beads surely fit the bill. Join a free factory tour and see how local women, including many single mothers, make the beads and other pottery items from scratch.
Local Retail Outlets:
Located in Karen (Factory shop),
The Junction
Village Market
Westgate Mall
Diani Shopping Centre in Ukunda Msa South Coast.
17. Kenya International Convention Centre (KICC)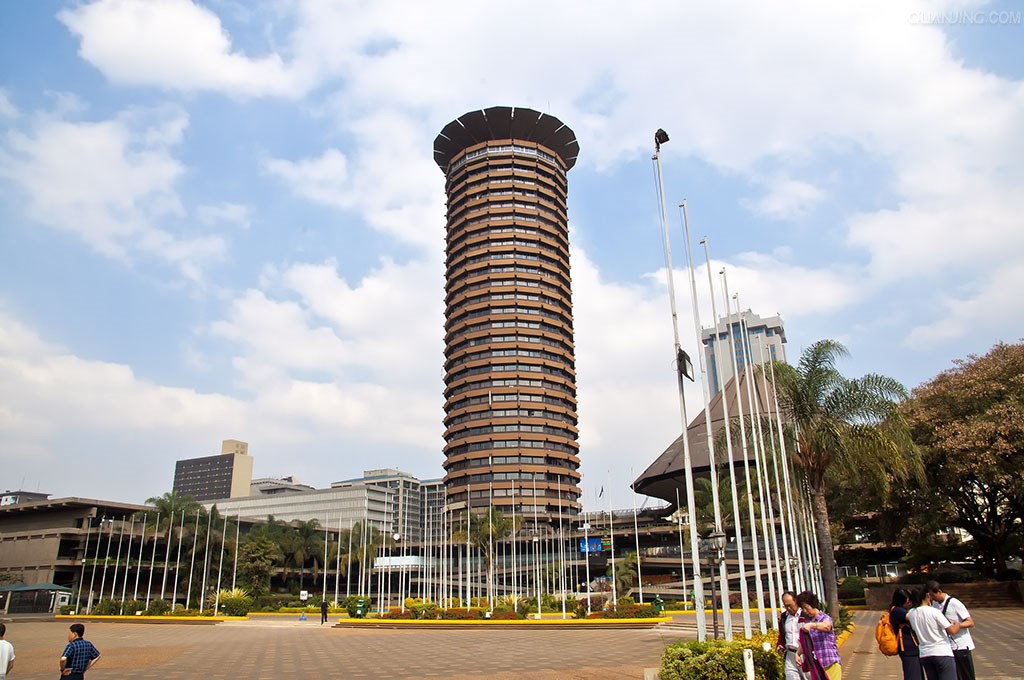 The distinctive cylindrical Kenya International Conference Centre (KICC) is an internationally acclaimed venue for conferences, meetings, and exhibitions. Though not the tallest building in Kenya, it dominates the skyline with a 28-story tower overlooking a large amphitheater. Its pale terracotta façade recalls the color of traditional African huts, and the central plenary hall resembles the ancient Roman Senate. You can zoom up to the rooftop viewing platform and admire panoramic views over Nairobi, or enjoy a meal at one of the restaurants.
Address: Harambee Avenue, Nairobi
Entrance Fees: Kshs 250 for Locals and Kshs 1000 for Non-residents
18. City Market, Nairobi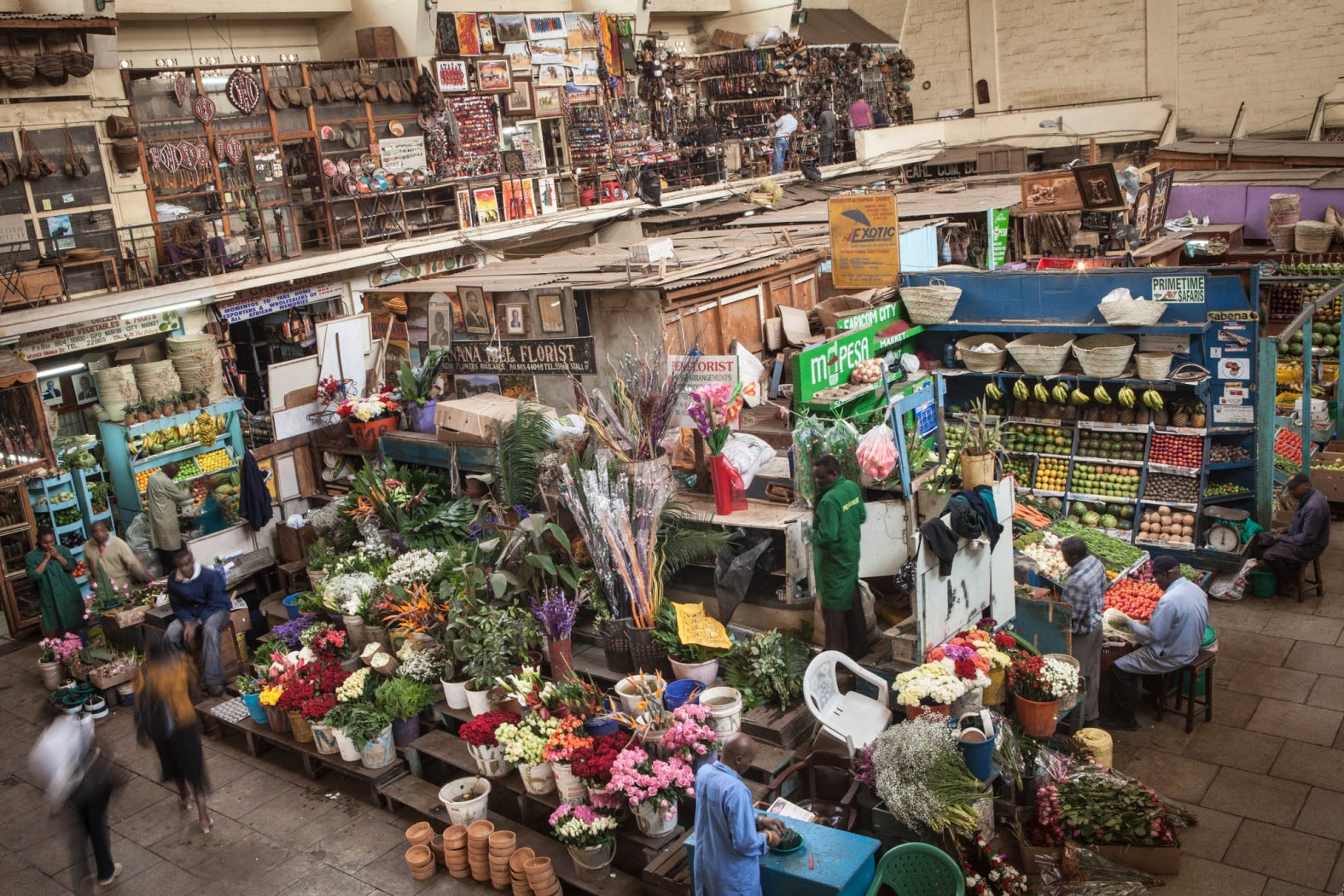 One stop shop (market) for all your body and soul needs. Offers choma experience for those who dare to dare. The fresh fish and meat market is also very popular for its affordability and relatively good hygiene standards. While there you can shop around for Kenyan and other African themed souvenirs, be it the kikoys, khangas, sculptures of Africa themed paintings, this place got your back. Remember to get some flowers too and surprise someone!
It definitely makes it to our Places to visit in Nairobi list.
Location: At the end of Kigali Rd along Muindi Mbingu Street.
Entrance Fees: Free
19. Jeevanjee Gardens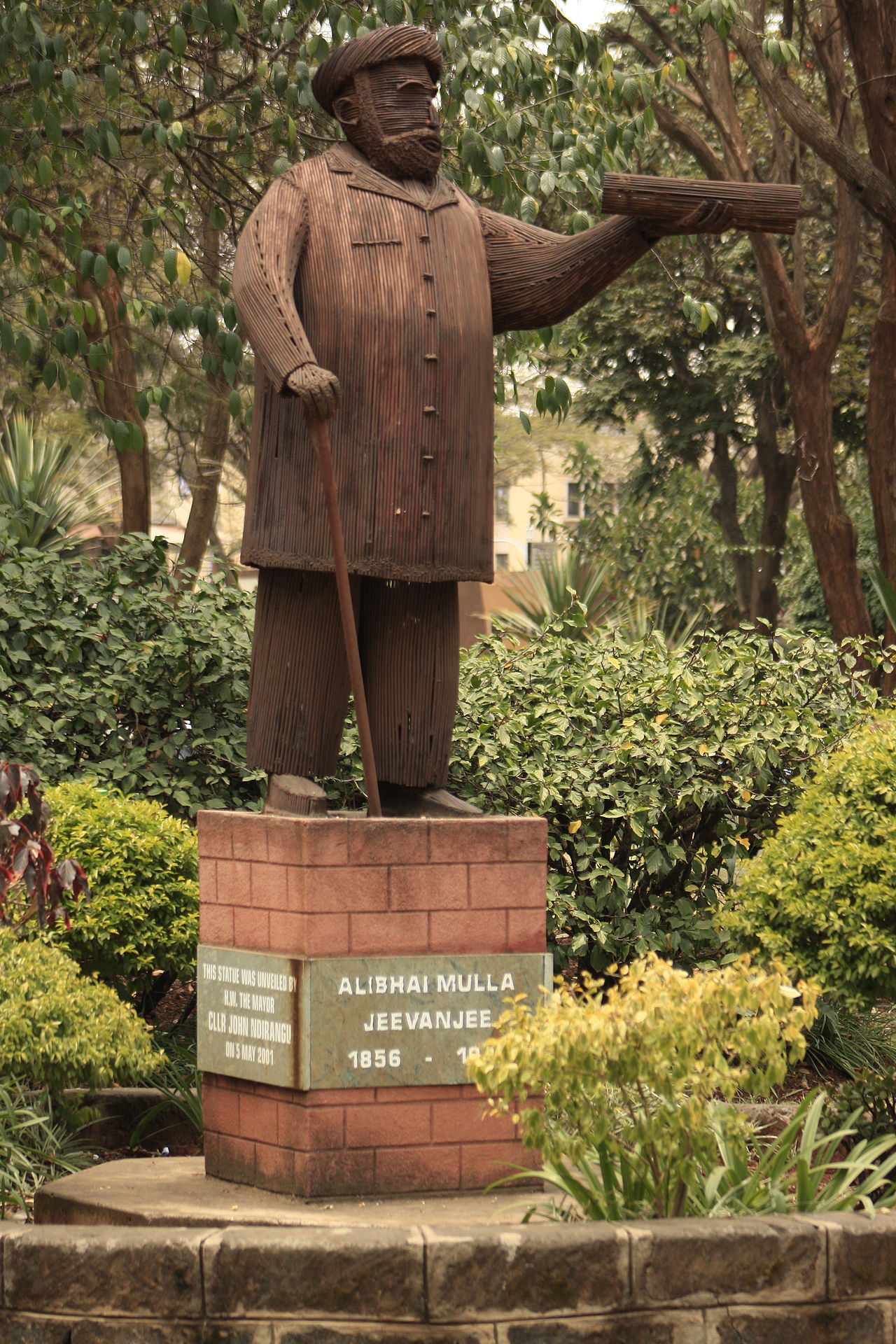 Jeevanjee Gardens is an open garden in the Central Business District of Nairobi, Kenya.
Jeevanjee Gardens was founded by A.M. Jeevanjee, an Asian-born entrepreneur in Kenya. It is the only park in the city that is directly owned by the people, having been donated to the magnificent people of Nairobi as a resting area (the park was private property and it is held in trust for the people of Nairobi).
There is nothing worth mentioning here except the garden is in the city center and is a cool place you can rest on a hot day.
There is a metal statue of Mr. Jeevanjee, the colonial-era Indian after whom the garden is named.
NOTE from TRIP ADVISOR:
"If you want to be robbed, mugged, and more just spend 30 minutes in Jeevanjee, as from 18:00. I don't think you will survive an hours if you are too fancy before you are kidbapped, drugged and more.
Just show off anything seen as worth money. Mobile phones, rings, I sat completely at the entrance (completely covered and watched, snatch thieves, street urchins, glue sniffers, Miraa chewers, Wah. Shivers. You dont want to be there."
Location: Along Moi Avenue
No entrance fees
20. Rahimtulla Museum of Modern Art (RaMoMa)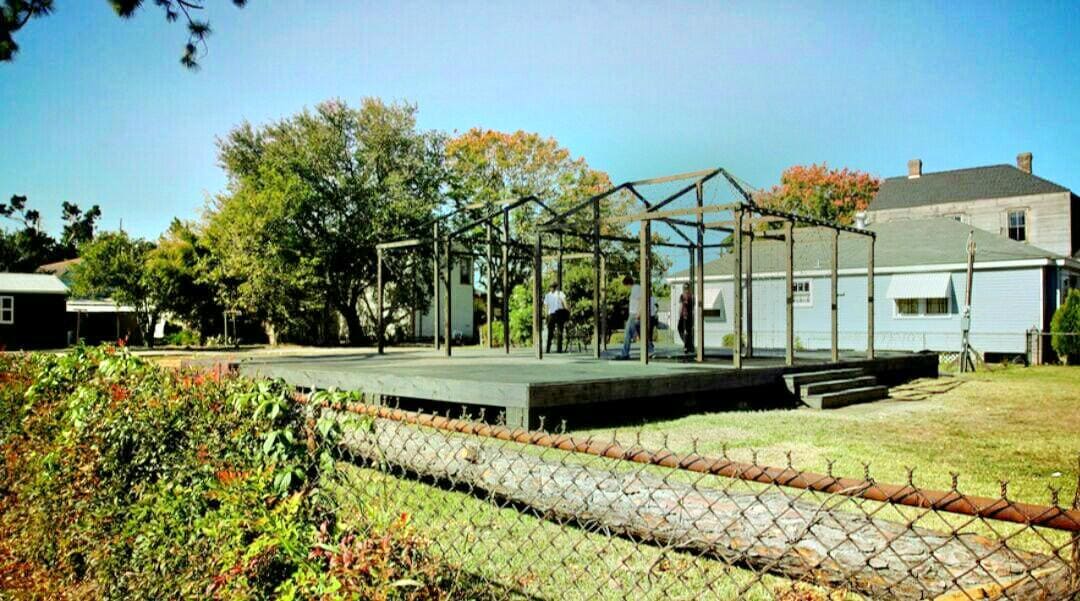 More Places to visit in Nairobi? Definitely.
Established in 2001 with support from the Ford Foundation and the Rahimtulla Trust, RaMoMa is one of the leading exhibition spaces in Kenya for contemporary African art. In early 2008 the museum relocated to new lager premises including several indoor galleries, a sculpture garden and an outside area for open-air performances. RaMoMa also holds regular workshops for children and adults and it publishes a quarterly magazine called "Msanii" on the visual arts scene in Nairobi.
Location: Parklands Avenue
21. The Nairobi Arboretum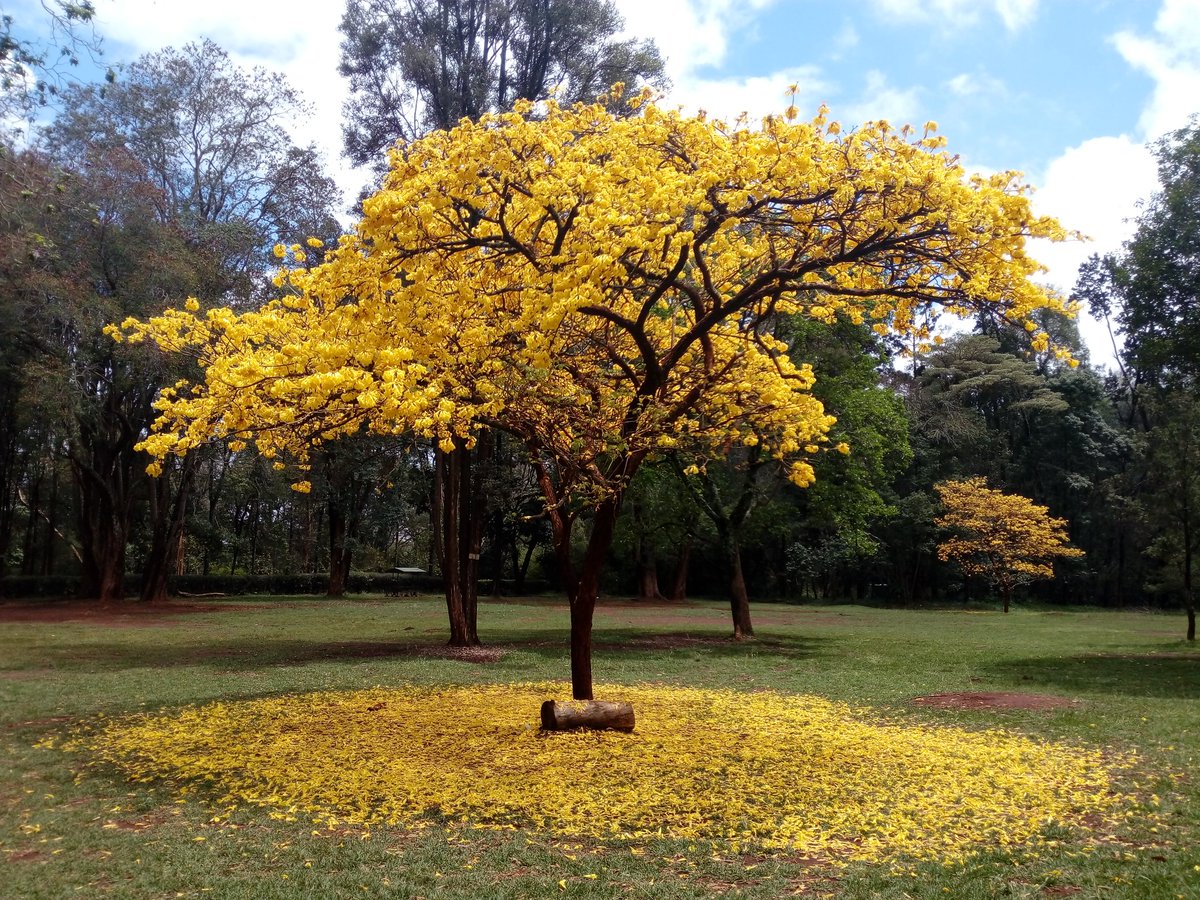 The Arboretum is a huge green space that looks and feels like a fairly dense forest with the occasional clearing here and there. Founded by a Mr Batiscombe in 1907, it is now overseen by the Kenyan Forestry Department. The Arboretum has lots of paths running through it, nearly all of them nothing more than dirt trails.
It has a very impressive collection of trees, not just from across Kenya and East Africa, but from further afield as well. Bhutan cypress, hook pine, jacaranda, guava, wild gardenia, Cape chestnut, balhambra, bauhinia, silver oak… These are only a handful of the species here. Some trees are especially picturesque: a balhambra, for instance, with massive roots spreading out across the ground, and a grove of Bhutan cypresses towering high into the sky (one of these cypresses is also the oldest tree in the Arboretum, having been planted back in 1907). Many of the trees are labelled too (some of the labels seem to be as old as the Arboretum, beautifully etched on metal plates).
Fees:
Tickets cost KSH 50 per adult and KSH 20 per child. A further KSH 1000 is levied for still photography and KSH 2500 for videography. Entry tickets can only be bought by credit or debit card or otherwise electronically; they don't accept cash.
There you have it. 21 beautiful and interesting places to visit in Nairobi.
Have fun surfing!
– travellerzee
Recommended Reading: