Just a few details on how to upgrade your old passport if you're a Nigerian and get the new Nigerian passport.
About the New Nigerian Passport

The Enhanced E-Passport is part of the new reforms approved by the Federal Government of Nigeria. It is a product of intensive review of the existing e-passport booklet which has been in circulation for over 10 years and has only 5-year validity.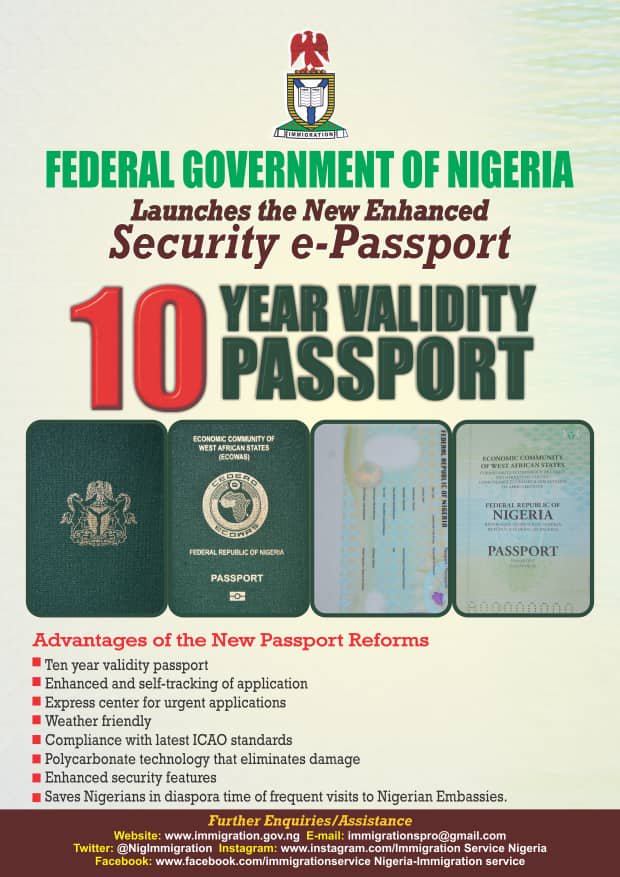 Features and benefits of the New Passport [Enhanced E-Passport]

These include:
Introduction of a new security enhanced passport;
Polycarbonate technology that enhances the quality of the passport;
Ten year validity booklet that saves frequent visit to passport offices;
Automation of issuance process to bring about transparency and address touting / middlemen;
Strictly online payment based;
Introduction of Electronic Document Management System that will ensure:

Tracking of application,
Effective communication with applicants on status of the application, and collection,
Eliminate human interference,
Enhances document storage system,
Enhances prompt decision making,
Ease process flow,

Provision of conducive processing environment for applicants;
Provision of effective and compliant address mechanism.
The prices:
A 32-page new passport with five years validity period goes for N25,000 ($130)
A 64-page passport with validity period of five years goes for N30,000 ($150)
A 64-page passport with 10 years validity period goes for N70,000 ($230)
How to Apply for the New Nigerian Passport
Click here to apply and get yours.
More details here.
Related Posts